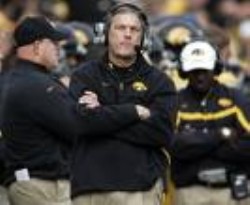 Hawkeyes and Huskers Don't See Eye to Eye On In-State Recruiting
Vote below on Huskers' recruiting strategy
By Will Cummings
myHitNews.com
   It's late in the football recruiting cycle for the high school class of 2010, and yet only three Nebraskans, Andrew Rodriguez, Aurora; Tyler Evans, Waverly, and Bryce Dietz, Lincoln North Star have received D-1A offers thus far. Even of more concern, Rodriguez and Evans remain the only players offered by the Huskers—the same total of Nebraska high school prospects that made up Bo Pelini's first full recruiting class last year.
   Back in March, I wrote an article titled "Bo Pelini's Recruiting Strategy: Will It Work?" The article explained Pelini's strategy of recruiting Nebraska high school football players–almost exclusively–as walk-ons, while he and his staff scoured the states of Texas and California for scholarship players. In the follow-up article "Is It Time to Panic: Class of 2010 Recruiting Numbers Way Off Last Year's Dismal Pace" that appeared in April, I noted my concern, at the time, that only 1 Nebraska high school football prospect in the class of 2010 had received an offer. The article also went on to mention that D-1A offers to Nebraskans would continue to trend downwards. Unfortunately, a major factor contributing to the decline is Bo Pelini's recruiting strategy of limiting the number of in-state offers to gain more out-of-state opportunities.
   Many Husker fans may think Pelini's strategy is all fine and dandy, thinking that they need to get as many top-end players as possible." However, when a program in such a unique position—the only D-1 football college in the state—fails to tend its own backyard it will begin to lose its value. That's something that programs like the neighboring No. 7  ranked University of Iowa Hawkeyes seem to be keenly aware of:




Iowa Hawkeyes vs Nebraska Cornhuskers 2010 In-State Football Offers

      Iowa      
Nebraska
                                  

7

                            

 2

 Yes, Iowa has a population of 3 million vs Nebraska's 1.8 million, but they also have two D-1 football programs competing against each other for talent . Yet, the only comparison above is between the Hawkeyes and the Huskers. In other words, there is no accounting of other in-state prospects that may have received offers from the Cyclones. The University of Iowa truly demonstrates a strong commitment to its high school football program.

 So goes Nebraska high school football—so goes the Husker program.
   The less Nebraska high school players offered by the Huskers the less total D-1 offers. And the less out-of-state D-1 colleges will offer Nebraskans for fear that if the Huskers don't want them they must not be that good. The less D-1 opportunity in the state will ultimately erode the level of high school play. Even filtering down to to the talent level of Nebraska's would-be-walk-ons. So If Bo Pelini and his staff believe they can build a championship program, while only offering two scholarships a year to Nebraska high school football players—good luck!
 [poll id="10″]
Related Links
Bo Pelini's Recruiting Strategy: Will It Work
Is It Time to Panic: Class of 2010 Recruiting Numbers Way Off Last Year's Dismal Pace"