Rachel Bramhall Enters All-Time Chart: Now Chases Kianna Elahi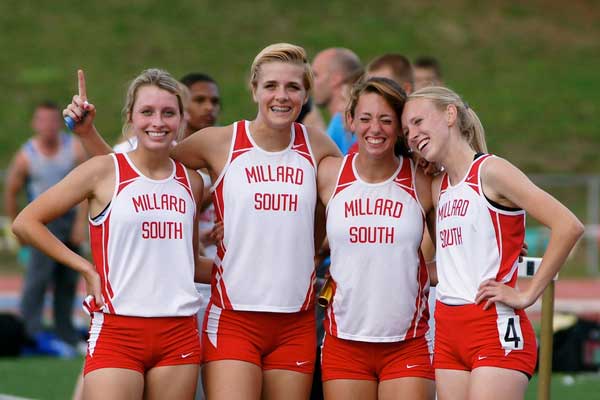 Millard South 1600 relay team members Macy Woitzel, Morgan Woitzel, Tatum Stenger and Clara Nichols set a new Nebraska high school standard for the girls 4X400 relay by racing to a 3:52.92 finish at the Metro Conference Championships. The Patriots broke the previous all-time chart No. 1 time of 3:53.42 set by Lincoln Southeast in 2008.  
It's good to be No. 1!
Speaking of which, state record holder Nichols, who won the 400m Metro crown on day1 , also won the 200m on day 2 in a season-leading 24.89. However, in the 100m finals the Oklahoma State recruit was nipped at the tape (12.19 to 12.20) by up-and-coming Omaha Central junior Chelsea Baker.
Bramhall Begins Ascent
The other big news of the meet was turned in by Rachel Bramall.   The Papillion-La Vista South junior hurdler won the girls Metro Conference 300m low hurdles in a time of 43.90—moving her into the all-time chart all the way up to the No. 4 spot.
Only .88 seconds separate Bramhall from claiming the all-time chart best time of 43.03 set by former Millard North great Kianna Elahi in 2007. Elahi, now an all-American and Big 12 champion for the Iowa State Cyclones, recently won the 400m hurdles at the Drake Relays and is one of the favorites to win the event at the Big 12 Conference outdoor championship later this month.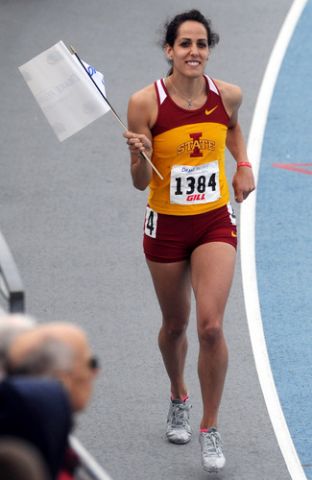 The Omaha North girls 400 relay team (Kierin Montgomery, Brandy Anderson, Nakita Brewer, Alexa Whitehall moves to No. 4 on the all-time chart with their 48.14 Metro Conference Championships win.
Cotton is King
On day 1 Kenzo Cotton blazed to the 5th fastest electronic 100m (10.59) and on Day 2 he ran a PR of 21.55 to win the 200m. Cotton's 200m time is the 5th fastest electronic time ever recorded by a Nebraska high school boy.
It's time to start thinking about the Junior World Championships, Kenzo!
Boys High Jump and 400m Hotly Contested
The Boys Class A 400m will be a barn burner again at state. Omaha North Junior Kelson McCollum won this battle in a Class A leading time of 49.01 but 4 other boys ran well under 50 seconds in the finals. 2011 Metro and State Class A champion Dennis Barfield did not run.
The boys Class A high jump will be another nail biter at state: 3 jumpers bowed out at 6-7 with Omaha Burke's Nate Hogberg taking the crown (less misses) over Papillion's Bryce Sheard and state leader Stacy Keel of Northwest. Bellevue West's outstanding freshman Malik Hluchoweckyj was right behind them at 6-6.
Related Links