Hot Link:

Omaha World-Herald Releases 2011 Super Six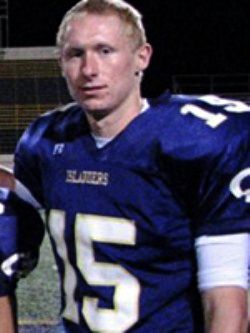 The top goal of any high school football player is to play well enough to help his team win each contest. And each contest provides yet another opportunity for prospects— especially seniors — to execute game performances that are worthy enough for scholarship consideration.  So will it be the case once again for Nebraska high school football players when the season kicks off on August 25.

As we enter the 2011 football season here is a look at intriguing unanswered questions surrounding the top prospects in the 2012 -2014 recruiting classes.
Pictured at left: Emerging Class of 2012 QB prospect Ryker Fyfe from Grand Island High School.

As of this writing 6 class of 2012 Nebraskans reportedly hold D-1A offers and three of them have already committed:

Tavarius Bender

, Kansas State;

Drew Ott

, Iowa and

Sam Cotton

, Nebraska. Jake Schany,

Mike Shoff

and

Dylan Utter

(MHN reports an offer from Army) remain uncommitted.

1. Will Early Verbal Commitments Be Honored? — there is always some doubt whether or not a committed recruit will stand pat on their decision. Circumstances out of their control could cause them to reconsider like the school they committed to changing coaches or its football program undergoing some drastic change in direction by the time signing day rolls around.  Also to be considered is the possibility that the recruit has a phenomenal senior season which could bring in more enticing offers. All of the aforementioned could throw a big monkey wrench into the best of intentions.

2. Tavarius Bender — can the state's No. 1 prospect elevate his game to the level of hype and status bestowed upon him? And if that be the case — will he carry his Lincoln Southwest Silver Hawks to the Class A state title?

3. Big Mike Shoff — will he silence the doubts about his knee and play well enough in 2011 to pull an offer from the Huskers.

4. Husker Offers — will any other prospect(s) in the class receive a Husker offer. Shoff, Jake Shany, and Drew Ott are among the front runners, right now.

5. Surprise Recruit(s) — who will be the "surprise" prospect(s) that will emerge out of this class to receive a D-1A offer? Seemingly every year a prospect or two of little notoriety from a particular class winds up with an offer from the big boys.



6. Hot Emerging QB Prospect Ryker Fyfe —

standing
at a listed height of  6-4 and carrying a weight of 195lbs, Fyfe possesses strong-armed accuracy and decent wheels and has been drawing strong interest from regional D1-AA schools. But, now, several D-1As are beginning to pull up the chair and lean to take a closer look at this very talented football and baseball athlete from Grand Island.

7. My Ten Most Intriguing Prospects (without D-1A or D-1AA offers) — these are prospect with the size, speed and athleticism to play big time ball but they will need to deliver consistent high-quality football performances in 2011 to improve their rankings on college boards:

Garret Johns

, Aurora;

Sam Foltz

, Grand Island;

Terry Grigsby

, Omaha North;

Dennis Barfield

, Omaha Central,

Michael Wickham,

Bennington;

Shane Lentz

, Millard North;

Roger Brohimer

, Fremont;

James Anderson

Burke;

Jordan Brichacek

and

Brian Bayer

Howells
.

Click the following links to see more info on the Class of 2012:

Class of 2013

Ah yes, it's time to start focusing on these freshly-made juniors:

Below is a list of the early reported prospects from this class. Hmm, where is the beef?
Nebraska High School Football

Offense & Defense


Name

School

POS

HT, WT

Bench, Squat

40

Shuttle

Vertical
Broad Jump

ESPN

Grade


Rivals

Stars


Issac Aakre
Millard North
2nd Team All-Metro

QB/ATH

NA

N

A
Devin Washington
Lincoln Southeast

RB

5-7, 152
NR

NA

NA

Freeman Coleman
Millard South

DL

6-1, 235
NR

NA

NA

Bryce Sosnowski


Mil

lard South

DE

6-2, 215
NR

NA

NA

Fernando Hildreth
Boys Town

DB

5-9, 150
NR

NA

NA

Tyler Wrice
Papillion

ATH

5-8, 167
NR
4.49
4.20
35″

NA

NA

Colin Mertlik


Blair


All-Conference
All-District

QB/LB

6-2, 190
NR

NA

NA

Jackson Gannon
Kearney

OL/DL

6-2, 230


NR

NA

NA

Jeffery Brooks
Lincoln High

RB/DB

5-9, 170
NR
4.83
4.6
27 "
93″

NA

NA

Nigel Phillips
Omaha Northwest

ATH

5-9, 160
NR

NA

NA

Ryan McKeever
Omaha Skutt

DB/RB

5-10, 180
(275, 480)
NR
NR
32.5″

NA

NA

Of course, there will be a lot more names to be added to the board as the 2011 season progresses, and we will soon know if any prospect(s) listed or unlisted receive early D-1A offers.  The first week in September is when D-1A football programs begin handing out offers to the junior class.

Class of 2014

I don't normally dig this deep this early but two standout freshman track stars from last season will be finding their way into varsity football games this fall.

Kenzo Cotton, Papillion-La Vista — he comes off the track to don pads for the 2011season.  The first Nebraska boy to win the state meet All-Class gold medal in the 200 meter will reportedly line up at WR. If the 6-foot-1, 170 pounder can catch the ball, and his QB can get it to him —bye, bye.

Jake Paulsen, Cozad — last year this freshman track standout also produced some ungodly stats playing running back on the freshman team.  Now the speedster moves up to varsity where he could potentially put up big numbers in 2011.

Always Remember the Giants That Nebraska High School Football Has Produced
3 Heisman Trophy Winners
4 Outland Trophies
Numerous All-American and All-Conference Players
You can view their photos and accomplishments, along with many other great Nebraska High School athletes from other sports, by clicking here.