NE Prep Zone TV a Hit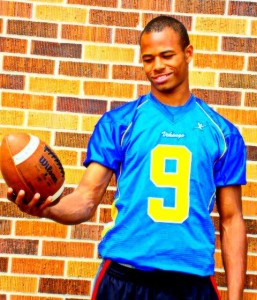 KXVO Television and the Omaha World-Herald couldn't have picked a better game to debut the new NE Prep TV.
The well-played contest between Millard West and Omaha North saw the Wildcats hold on to a 31-26 lead when sophomore Connor Wieck perfectly timed his leap to pick off a an underthrown pass to North's Terry Grigsby as he ran a fly route deep inside Wildcats territory with less than a minute to play.
The 6-foot-2, 190lbs. Grigsby entered the season ranked as MHN's No. 23 prospects in the class of 2012. Though he may have fell short in the win column his performance demonstrated that he deserves to be ranked among the very top prospects in his class.
Displaying his set of soft hands, crisp routes and tough running, Grigsby caught 8 balls for 160 yards and 2 TDs, He also racked up some nice punt and kickoff return yardage on the night, amassing well over 200 all-purpose yards for the game.
Terry should have been ranked higher in the MHN preseason Top 25 Prospects list, but I intentionally ranked him lower because (1) I've known him and his family since he was about 8-years-old and more importantly (2) until Thursday Terry had not shown anywhere near his full potential on a high school football field.
Terry Grigsby needed to earn a higher ranking by his play on the field. Mission accomplished!
One game does not make Grigsby a slam dunk for a D-1 scholarship, however, if he continues to perform like he did in his opening game — it will be nearly impossible for the big, long-bodied, speedster to not pick up an offer (or several) from a D-1 program. He simply has too much potential: the most I've seen from a Nebraska high school WR since Niles Paul.
Other Prospects to Watch
Omaha North junior QB Zach Martin, the son of Viking head coach Larry Martin, also looked very impressive in his debut as a starter. The 6-3, 180lbs QB demonstrated  good arm strength and accuracy, nice footwork, and the ability to tuck the ball and pick up some nice yardage when need be. If Martin and Grigsby stay healthy and continue to improve — this Viking team is very much capable of making a serious run for a state title in 2011.
Senior D.J. Avant, a transfer out of Burke, was in on a lot of tackles from his LB position and added a 7-yard TD run at RB.
Millard West Wildcats Loaded Again
Kirk Peterson's Wildcats are stocked with a bunch of young talent. Keep your eyes out for sophomores Skyler Monaghan, WR; Ross Drwol, QB and Connor Wieck, DB.
Seniors Alec Carothers, DE (6-2, 215); Michael Labadie, TE (6.2 190) and QB Marcus Ethen had nice games, too.
Thursday Night Live HS Football
Finally, you have got to love the new NE Prep Zone TV Thursday night live coverage of Nebraska high school football games.
Host and executive producer Matt Kelly, and former Iowa State QB and NFL player Todd Doxson and sideline man Adam Krueger provided good commentary throughout the show.
This is a much needed and very welcomed edition to high school sports coverage in Nebraska. And the fact that anyone in the world with a computer and Internet access can also tune in to watch this KXVO Television broadcast is icing on the cake.
Kudos to the Omaha World-Herald for helping to make this a reality.