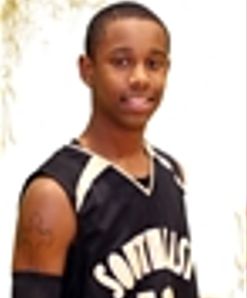 Here is the week 0 breakdown of hot performances by some of the top Nebraska high school football prospects and rising stars. Plus a preview of Week 1's Game of the Week between No. 1 Millard North and No. 2 Omaha Burke.
Pictured at left is Lincoln Southeast junior QB/DB Najee Jackson, who delivered a brilliant two-way performance on Friday night to help lift the Knights to a 17-12 win over No. 3 Lincoln Southwest.
Hot


Ryker Fyfe
, QB (6-4, 195), Grand Island, Sr. — he completed 10-15 passes for 277 yards and 3 TDs and picked up 35 on the ground in a lopsided win over Norfolk.
Isaac Aakre
, QB (6-0, 190), Millard North, Jr. — the class of 2013 prospect rushed 23 times for 249 yards and 3 TDs against Creighton Prep. It remains to be seen, however, if the athletically gifted but undersized dual-threat QB will ultimately be recruited as an athlete or QB.
Terry Grigsby
, WR (6-2, 190), Omaha North, Sr. — he hauled in 8 catches for 160 yards and 2 TDs.
Sam Foltz
, ATH (6-3, 185), Grand Island, Sr. — the big speedster caught 4 passes for 157 yards including an 81 yard grab for a TD. 

Devin Washington, RB (5-9, 170), Lincoln Southeast, Jr. — he picked up where he left off last season by carrying  27 times for 114 yards in the Knights win over the Silverhawks.
Najee Jackson
, QB/DB (6-1, 160), Lincoln Southeast, Jr. — this rising star may have had the best two-way performance of the week in helping his team defeat No. 3 ranked Lincoln Southwest.  On offense Jackson completed 4-10 passes for 120 yards and 2 TDs. On the defensive side Jackson picked off two passes thrown by Nebraska's No.1 class of 2012 prospect Tay Bender.
Cale Korbelik
, RB/DB (5-9, 180), Millard North, Sr. — the speedy and powerful senior ran for 1 TD and gained  151 yards on 12 carries against Creighton Prep.
Tyler Wrice
, ATH, Papillion (5-8, 160), Jr. — a prospect to watch, Wrice rushed 6 times for 96 yards and 2 TDs, and he caught 2 passes for 24 more yards.
Tyler Pavich
, RB/ DB (5-9-175), Millard South, Sr. — he rushed for 142 on 8 carries, including a 79 yard TD, in the Patriots win over Omaha Westside.
Alec Ditoro
, QB, Papillion, So. — the sophomore completed 16 out of 21 passes for 270 yards and 3 TDs to propel the Monarchs to a 48-3 victory over Papillion-La Vista South.

Not So Hot
Tavarius Bender
,

QB (6-3, 215) Lincoln Southwest, Sr. — the Kansas State recruit is off to a rough start in 2011, completing only 6-15 passes for 160 yards and 3 INTs in a losing effort against Lincoln Southeast . Bender did manage throwing 2 TDs but his overall game numbers leave some K-State Wildcat fans swallowing hard.
Brandon Stuart
,

QB, (6-1, 180) Bayard, Sr. —the record-setting QB from a year ago, was obviously held without a TD throw in his team's 0-56 season opener loss to St. Patrick.
Game of the  Week Preview
Millard North vs. Omaha Burke
The 2010 Class A state champs may be even better in 2011.

Fred Petito's Mustsangs led by junior QB sensation

Isaac Aakre

proved in their season opener last Friday that they are indeed the premiere team in Class A for the 2011 season.  Even so —the Mustangs should face a big test this week against Burke.

Since becoming the head man at Burke in 2006, Coach

Paul Limongi

has methodically built the Bulldogs football program into the best in OPS and among the top three or four perennially ranked teams in the state. Along the way, "The Godfather" has already spun off two head coaches from his coaching tree:

Damon Benning

(Omaha Northwest) and Seth McClain (Fremont).

That's all good and well but one cannot escape the fact that during half of Limongi's impressive rebuilding effort at Burke he had the luxury of relying on prolific performances by his former standout QB

Jimmie Forsythe.

In order for Limongi's Bulldogs to continue their rise among the elites in 2011, a consistent offensive playmaker or two will need to emerge to help fill that huge void created by the departure of Forsythe. Yet after their grind-it- out win over Omaha Central — it's still unclear as to whom that offensive go-to player (or players) will be.

We know that the Mustangs rely on stellar performances by Aakre: The Bulldogs must neutralize this explosive dual-threat QB if they want to chalk up a win on Friday.  In so doing they will also need to slow down the Mustang's highly productive fullback and running back tandem featuring big bruiser

Chris Bailey

and speedy Cale Korbelik

.

Moreover, the Burke secondary must not forget that Isaac Aakre can burn you with his arm, too.

Stopping all those Mustang weapons will be quite the feat for Burke. But in light of their — so far — lack of explosive playmakers on offense, shutting down Millard North's potent offensive arsenal while also controlling the ball on offense (first downs and no turnovers) will most likely be the Bulldog's only chance for another grind-it out win.

If Burke's defense is not up to the task —this game could easily become a blowout win for Millard North.

Home field advantage for the Burke Bulldogs could not have come at a better time on the schedule.