Kansas Baller Aerial Smith Blazes Court from End to End–and Finishes!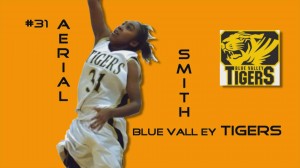 By Will Cummings
myHitNews.com
I recently had the pleasure of producing a highlight video for Aerial Smith, a dynamic high school girl basketball  player out of Blue Valley High, which is located in Stillwell, Kansas not far from Kansas City–just a little south of the Olathe and Overland Park areas. Smith is  a class of 2011 prospect who plays point guard for the Blue Valley Tigers, and last season she earned First Team All Eastern Kansas League (Class 6-A) honors as a junior.
 The 5-foot-8, 125 pounder is a smart aggressive player that has the ability to see the whole court. She also possesses an explosive first step, great quickness, outstanding ball handling skills and–most importantly–the body control to finish when she takes it to the hoop at full tilt, which is something she does often. Defensively, opponents dare not to be lazy with the ball, because Smith will take it the other way for two if they do! Aerial Smith is definitely one of the top steal-masters around.
Her father, Kevin Leach, said that Aerial already has several scholarship offers on the table from William Jewel, Missouri State, Wichita Benedictine and a couple others. She is also drawing a lot of interest from Drake University where she just recently completed a summer basketball camp.  In addition to being a standout  basketball player, Smith is just as proficient in the classroom–a honor studnet with a 3.57 GPA.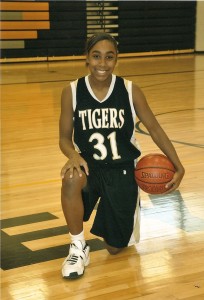 It's obvious from watching Aerial Smith play that she had some good coaching along the way. Smith's high school coach, Andrew Unrein, has those girls schooled. I've seen boys basketball teams that can't space the floor and move the ball around like the Tiger girls do. Of course being a good basketball player is a constant pursuit and during the summer Aerial tightens up her skills by playing on an AAU team coached by former KU basketball star Calvin Thompson. 
Aerial Smith has been well-schooled in the art of playing basketball–and it shows!
Check her out.
httpvh://www.youtube.com/watch?v=raPP_WLfr1E
If the above video fails to appear click  on the following link or copy and past it into your browser:http://www.youtube.com/watch?v=raPP_WLfr1E.