Warning
: Undefined array key "file" in
/home/hithighl/public_html/myhitnews/wp-includes/media.php
on line
1657
Warning
: Undefined array key "file" in
/home/hithighl/public_html/myhitnews/wp-includes/media.php
on line
1712
Warning
: Undefined array key "file" in
/home/hithighl/public_html/myhitnews/wp-includes/media.php
on line
1657
By Will Cummings
myHitNews.com
The recent decision by the Big Ten brass to place the Iowa Hawkeyes and the Nebraska Cornhuskers in the same division was a move made in heaven for football fans around these parts of the country. Having spent time in both Nebraska and Iowa, there is no mystery—based on my observations–that Iowa and Nebraska football fans are not particularly fond of one another: In general, Iowans seem to think that the Husker fans are full of themselves and living on past glory, while the Husker fans outright dismiss Iowa football as being of any significance in their eyes due to their futility in head-to-head competition against them and in collecting national championship hardware.
Iowa vs. Nebraska Football History Since 1891
Historically, things have not gone well for Iowa football teams in their head-to-head contest against the Huskers: Nebraska leads the series with a record of 26-12-3. But the overwhelming majority of those games occurred prior to 1946. And the earliest of those meetings dates all the way back to 189l. That first battle was waged in Omaha, where Iowa walloped Nebraska 20-0. However, after the 1946 game–a 21-7 Iowa victory–the two teams did not meet up again until 1979, when Nebraska escaped from Iowa City with a close-fought 24-21 victory. The Hawkeyes and Huskers have only met five other times since '79. During that span, the Hawkeyes are a dismal 1-4 against their neighbors to the West. As illustrated in the table below–Iowa suffered severe beatings by Nebraska football teams:
Iowa Hawkeyes vs. Nebraska Cornhuskers
Head-to-Head Game Record
(since 1979)

Year

Nebraska

pts.

Iowa

pts.

Location

1979

Nebraska 24

Iowa 21

Iowa City

1980

Nebraska 57

Iowa   0

Lincoln

1981

Nebraska   7

Iowa 10

Iowa City

1982

Nebraska 42

Iowa   7

Lincoln

1999

Nebraska 42

Iowa   7

Iowa City

2000

Nebraska 42

Iowa 13

Lincoln
So there you have it.
Based on the record between the two football teams, Nebraska fans have every reason to be dismissive towards Iowa Hawkeyes football. As for the Hawkeyes fans, perhaps they are suffering more from an inferiority complex and a touch of envy when it comes to their feeling about the Huskers. Sure, Husker fans may be full of themselves—but don't they have every right to be?
Nebraska's 5 National Championship Trophies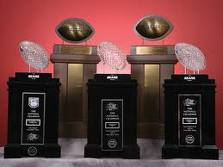 The above data appearing  in this article was collected from the College Football Data Warehouse.
Latest Nebraska vs. Iowa article: Who has Best Chance to win 2011 Big Ten Championship?
Related Links:
Iowa Hawkeyes vs Nebraska Cornhuskers: Who Has the Best Football Program in the Neighborhood?
Iowa Hawkeyes VS. Nebraska Huskers: Which Team Will Have Best Record in 2010?