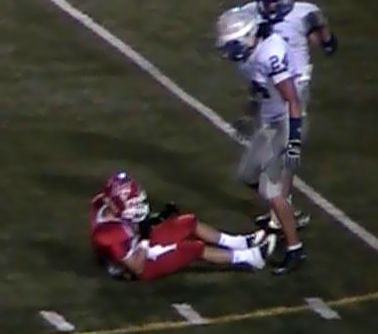 Cole Fisher Turns Out the Lights with Big Hits During 4th Qtr. Crunch Time  
By Will Cummings
myHitNews.com 
Millard North head football coach Fred Petito epitomizes the expression "you can't keep a good man down."  After a couple of down years for the Millard North football program, Petito's Mustangs are back and looking like a serious contender for this year's Class A state football title. 
The Mustangs out executed and out played Millard South by the tune of 21-16 in another showdown for "who's the Best in Millard."  And more often than not, these contests are typically a good barometer for who has the best high school football team in Nebraska. Of course, the other Millard school, West, figures prominently in this equation as well, but on Friday the battle for locale superiority was between North and South. 
The Mustangs won the game by their defense's ability to shutdown the Patriot's running attack. Therefore, South's only option to move the ball was through the air. Unfortunately, the Patriot air attack had the challenge of out dueling one of the best defensive backfields in the state, lead by hard-hitting Iowa recruit Cole Fisher. This time the Patriots came out on the losing end in that battle. 
Hopefully, the Mustangs will not let this win go to their heads because Millard South—lost–this game more than Millard North won it.  The fact is: both of these teams are pretty even, and if they were to meet again this year it will come down to—like it did on Friday—which team executes the best and commits the fewest turnovers.  Last night Millard South lost on both counts. 
Impressive Performers: 
Cole Fisher, SR, DB, MN—A big hitter with a very bright future ahead—Like him a lot! 
Eddie Collins SR, RB/DB, MS—The young man has some wheels. 
Isaac Aakre, SO, QB, MN –Only a sophomore? Millard South has another quality QB in the making. 
Jacob Bergmeier, SR,  RB, MN—A tough running RB. 
Devin Bass, SR, WR/DB, MN–A playa'.
Chris Bailey, JR, FB/LB, MN—Keep an eye out on this kid—one tough  cookie. 
Josh Couch, SR, DB, MN—Good size at 6-1 and he is a playa'. 
Jordan Wisdom, SR, DE, MS–Definitely one of the better DE's in Nebraska. 
Tony Gardner, SR, WR/DB , MS—Can run after the catch. 
Quentin Urban, SR, LB/RB, MS—Solid performance on D—needs more touches on O. 
Elijah Tostenson, SR, WR MS—Shows promise. 
Millard North's O-line—Not overwhelming, but very solid.
 Let's face it: Both teams have a lot of kids that will play at the next level.
httpvh://www.youtube.com/watch?v=v1C-TFk-g6k