Central's 6-7 Sudanese Freshman Akoy Agau Makes All-Tournament Team
By Will Cummings
myHitNews.com
   Omaha Central upended Class A No.1 ranked Creighton Prep in the semi-finals of the Metro Tournament, on their way to a 79- 70 finals victory over Omaha Benson. 
   Based on Central's head-to-head competition in the tournament, margin of vctory and team chemistry, the Eagles–right now–are clearly  the best Class A  team in the Metro. 
   As for the Eagles laying claim to the best Class A team in the state?
   Hmmm. let's not forget about still undefeated (9-0) Lincoln Southeast, led by Colorado State bound Derrius Vick.
   One of Central's losses this season was to Lincoln High, a team that Southeast just recently squeaked by (53-54) on their way to winning the Heartland Conference Holiday Tournament. Nonetheless, I must say that as long as the Eagles continue to play team ball, with seasoned seniors Deverell Biggs and Sean McGary leading the way and their force under the basket–6-foot-7, 190lb, Sudanese freshman Akoy Agau–if he continues to find his game, I really like their chances to win the Class A title this year.
   Yet despite all of the Eagles' current high-flying fortunes, by the end of the season–playoff time–there will be several other teams in the Metro capable of clipping their wings: Creighton, Benson, Bryan and Burke–in that order–each have the talent and coaching to gel at the right time.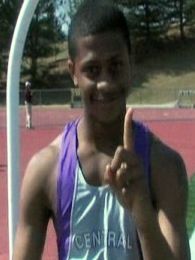 2009-2010
Metro Holiday Basketball
All-Tournament Team
Deverell Biggs, 6-1, G/PF, SR, Central, Honorary Captain
Akoy Agau, 6-7, C/PF, FR, Central
Avery Langford 6-1, G, JR, Benson
CJ Carter, 5-10, G, JR, Benson
Ray McGaugh, 6-0, SG, SR, Burke
 Metro Holiday Tournament Results