Hot Prospect Watch List: Class of 2015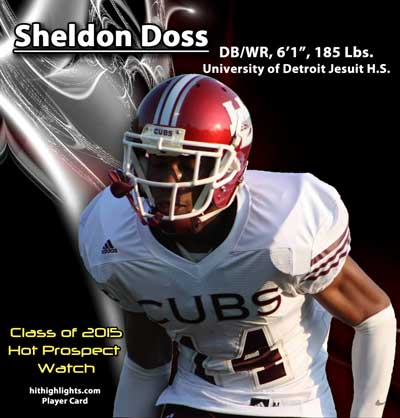 As a sophomore Michigan's Sheldon Doss often flashed the kind of skills and abilities that you would expect to see from a topflight FBS college cornerback, which puts this class of 2015 prospect right in the mix to grab some early offers.
Hailing from the University of Detroit Jesuit High School, Doss is a big (6-1, 185), long-framed, aggressive cornerback who possess fluid hips, quick feet and  speed (4.50 40 yard dash). Add to "Boss" Doss' box of goodies: a nice backpedal, the ability to turn his back and run step-for-step with a receiver and then stay in his  hip pocket off a cut, the capacity to effectively jam off the line to disrupt a route and is a sure tackler that attacks the run—and you got a nicely wrapped package of serious potential.
Doss logged considerable playing time on varsity as a freshman for the Cubs. This past season he started at CB where he had 12 pass breakups to go along with 48 total tackles and 4 forced fumbles. However, no picks for him this season. Though it's definitely not like he can't catch the ball because Sheldon played WR this year, too. According to his father, Eli Doss, opponents didn't throw much to his side. I can buy that explanation based on what I see on film. Receivers tend to get very little air between themselves and Sheldon.  
The University of Detroit Jesuit plays in Michigan's top high school football division and one of its toughest leagues, the Catholic Central. In addition the Cubs face tough non-league foes like 2012 state champions Cass Tech.  If you have not heard of Detroit's Cass Tech High School—you will know them now: Cass Tech had 14 players from the class of 2013 that received Division 1 football scholarships.  So the young "Boss" Doss went up against some pretty strong competition in 2012.
Eli says Sheldon not only faces a tough competition on the football field—he faces a trying environment in school as well. The University of Detroit Jesuit is a college preparatory school and it has one of Detroit's most rigorous academic programs. Eli said Sheldon is doing well, "He recently pulled down a 3.2 GPA."
The D Zone, a media concern that covers Michigan high school sports, listed Doss as one its Class of 2015 Prospect to Watch for the 2013 Season.
Currently, Sheldon is playing in an elite 7-on-7 football league featuring some of the state's top prospects, while he also prepares for his first varsity track season.
Doss was recently selected as one of 40 players to compete in the TWO Max Ex 7 vs. 7 Football Teams Midwest regional National Championships Qualifier Tournament, that will be held in Chicago, IL on April 13-14. Top teams to move on to National Championships in Florida.
Keep an eye out on Sheldon "Boss" Doss. This kid can go far!
Check out Sheldon Doss' sophomore season football highlight video:

Related Links
FOOTBALL RECRUITING: Cass Tech is a Division I wonderland in local recruiting scene