Iowa HS Quarterback Set New Standards in Year 2000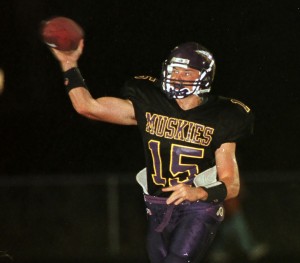 By Will Cummings
myHitNews.com
   In the year 2000–before the the age of YouTube (2005) and the onslaught of digital media and the omnipresence of national recruiting services like Rivals.com–Iowa high school quarterback Ben Stover broke several state passing records during his senior year:
Ben Stover's 2000 State Records
Most yards in a season (2,747)

Most completions in a season (210)
Most completions in a game (39)
     The 6-foot-1 207lb gunslinger played for the Muscatine High School Muskies, located in the small town of Muscatine, Iowa (population roughly 22,000) that sits along the Illinois border nestled between Iowa City and Davenport. Whether Stover slung the football after dropping back from underneath center or from the shotgun formation, his perefectly thrown balls ultimately found their way into the hands of Muskie receivers at a rate never seen in Iowa before his time.
   Records are meant to be broken; over time, all of Stover's state records have fallen. His current Iowa All-time  Best 11-man high school football rankings are as follows: Most passing yards in season (11th); Most completions in season (8) and most completions in a game (2). His senior year performance in 2000 still ranks very high among the state's all-time best!
   The highlight video of Ben Stover's record-breaking season in 2000 is courtesy of his friends and teammates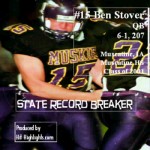 who scrounged up a half dozen VHS tapes and chipped in to have Hit Highlights.com sports video editing service produce a digital video highlight of Stover as one of the gifts to be given to him at his bachelor party on February 20th, 2010.
   Thanks to Stover's friend, Brian Anderson, who spearheaded this project. And best wishes to Ben Stover: May your marriage be as successful as your high school football career—I just hope that it lasts a lot longer.
 Below check out Ben Stover highlight video:
[pro-player]https://myhitnews.com/wp-content/uploads/2010/02/Stover.flv[/pro-player]
Click the following linkto see YouTube version:  http://www.youtube.com/watch?v=qTYFeqVthq8
Audio track not available in this version.