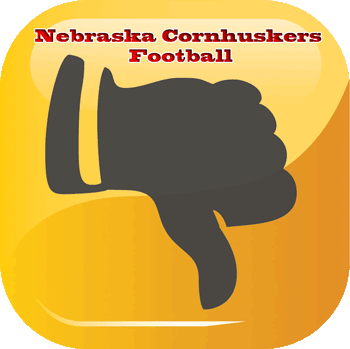 Alright, I was wrong when I first predicted – over a year ago –  that the Huskers would win the Big Ten in their first year of conference play. Unfortunately, the Huskers have taken several steps backwards this season – from a good team to barely an average squad.
Bo Pelini's star has fallen and the Blackshirts, well, the only black to their game this year resides underneath their swollen eyes from the pummeling delivered by opposing offenses.
The ballyhooed talent possessed by the trio of true freshmen running backs never materialized and a Husker offense built almost exclusively around the skills sets of Taylor Martinez and Rex Bulkhead were easy pickings for d-coordinators that had a modicum of talent around them to execute their game plans.
After a 7-24 loss to Northwestern at home and being clobbered 45-17 inside the Big House at Michigan, the Husker football program once again finds itself searching for answers.
Tom Osborne and Bo Pelini better not waste a single moment to come up with the right answers. NU needs  to find solutions fast or the mighty Huskers may soon be headed on their way to becoming only the third best college football program in the region – behind  Paul Rhoads' exciting dragon-slaying  Iowa State Cyclones  and Kirk Ferentz's  steady NFL-player-producing  Iowa Hawkeyes.
Nebraska vs. Iowa
The Huskers are already in danger of falling into the middle of the Big Ten football pecking order. They finish the regular season next Friday against border rival Iowa.
In my opinion, the 7-4 Hawkeyes are a better team than the 8-3 Huskers.