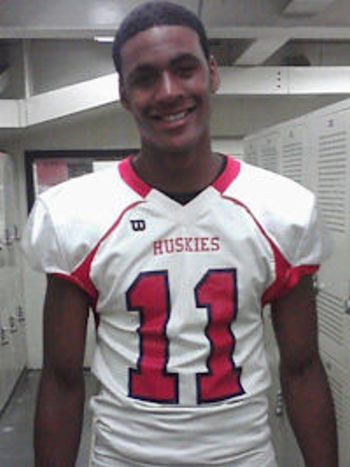 Oh my!  Towering at the height 6-foot-8 and possessing outstanding athleticism, Omaha Northwest senior wideout Stacy Keely will have plenty of college coaches closely monitoring his progress during the 2012 season.
On Friday, the 2012 state meet all-class gold medalist high jumper got off to a nice start  by hauling in 2 TD passes, albeit in the Huskies losing effort against Lincoln High.
If this young man's grades are in line and he continues to showcase his skills—look for some D-1 colleges to pull the trigger on him. Because In my opinion—unless his grades are not there—Keely simply possesses too much size, talent and potential to be passed over.
Oops! Burke blows a 25 point halftime lead to Creighton Prep. Oh well, at least the Bulldogs will not have the pressure this year of playing for a perfect season.
Husker 4-star LB recruit Josh Banderas racks up 144 yards and 2 TDs on 12 carries, while playing RB for the first time in his high school career. I like this kid!
Yikes! Look out for Papillion-La Vista: sophomore QB Alec Ditoro is a year older and wiser and the Monarchs are again loaded with talent at the skill positions.
Omaha North didn't have much of a contest against Benson, blowing up the Bunnies 67-0 and allowing QB Zach Martin to pad his stats with 4 TD tosses. Are the Vikings for real in 2012? There is nothing like having a good and experienced senior QB to lead you to the promised land.
Last year was a very competitive at the top in Class A—the 2012 season may be even better.
I know it's early but I predict that Lincoln Southeast will not repeat as Class A state champions. Look for one of the Omaha Metro area teams to bring home the Class A championship in 2012. I just don't know  which team it will be. At least a half a dozen of those teams in the Metro area have a real good shot at the top trophy.