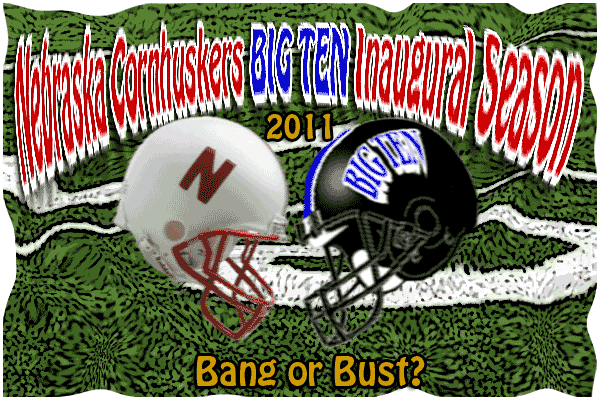 2011 Big Ten Conference Football Championship Prediction
Prediction: in less than 20 days the Huskers will kickoff their 2011 football season with a win against Tennessee at Chattanooga, on Sep 3rd.

NU will then march right through their remaining non-conference opponents and will be 4-0 by the time they meet up with Wisconsin (Oct 1) for their Big Ten debut — a pivotal contest that will most likely determine their fate regarding any aspirations they may have of winning a national title this season.

The Nebraska vs. Wisconsin game will also gauge whether or not the Huskers have enough juice to capture the 2011 Legends Division crown.
Expectations are High for the Huskers in 2011:
Most of the sports gurus are predicting NU will at least win that Legends Division. And some are even predicting an outright Big Ten Title for the Huskers.
As some of you may recall, in mid-November of 2010 I wrote a post titled
"Big Ten Football: Be Afraid, Very Afraid

—

the Huskers are Coming!"
In that posting I predicted that the Huskers would win the Big Ten title in their first year. But that was well before NU's BIG meltdown towards the end of the season, along with the Taylor Martinez ankle and foot injuries and his apparent regression as a developing QB talent.

Even though I wrote that post as a result of how far the NU football program had come since Pelini's arrival, I also predicted before the 2010 season started that NU would not win their last chance at a Big 12 title. The Karma thing was a just one mojo of a mountain they were not going to climb (
click here to read Karma post
).

Admittedly, after the

Bo Pelini Tirade against Taylor Martinez

and the officials when they played Texas A&M at College Station, I had a change of heart right before the Big 12 Championship Game.

I figured that the whole sordid incident between Pelini and Martinez would bring the team closer together. More importantly — based on Martinez's serious injuries — I thought he would not play at all in the championship game.

Wrong! Not only did he play — he started!

I was aghast to learn Taylor Martinez would start that game. I mean those types of sprains take a long time to heal, plus he had the foot problem. Though as hobbled as he was and as poorly as he and the Huskers played offensively that night — thanks to the Blackshirts they almost won the game.

OK. That's all water under the bridge as they say, so what about this year?

Pelini and the SEC Influence

Bo Pelini and crew have recruited well and NU is loaded with talent on both sides of the ball. Pelini's fourth year at the helm of the Huskers ship should be his best. And here is why:

Big Ten Style Football is Slower

In my opinion the Big Ten as a whole plays a quarter of a step slower than the Big 12. This is not a knock on the individual talent in that conference (they have plenty of fast and athletic players) It's just tradition holding them back — a combination of a style of play influenced by coaching philosophies arising from that traditional approach that even their fans enjoy and expect.

Put it this way: The SEC plays a half step faster than most every other conference. It's the line play I'm talking about not the performance at the skill positions. The speed at the line of scrimmages is the difference between the SEC and everyone else, especial y when it comes to the defensive front.

But hold on here. The SEC was not all that and a bag of your favorite snack a decade ago, something happened — coaching. Top notch coaches started migrating to the SEC. When they arrived and saw all those beefy athletic linemen they said "hmm, let me show you how we are going to start playing."  Now everyone else in the country is playing catch up to the SEC.

Pelini spent three years in the SEC and he has instilled that defensive philosophy and style of play along the line of scrimmage at Nebraska.

NU Puzzle for 2011

Question marks about the 2011 edition of the Huskers do remain, however, on offense: the play at the QB position, their overall prowess at I-back and the maturity of their O-line. Nonetheless, based on all the reports coming out of camp i.e. strong team chemistry and Carl Pelini's remarks about the defense and offense having already put in their basic schemes and packages — the Husker look ready to roll in 2011.

Huskers Keys to a Big Ten Title

Offense

If

Rex Brukhead

stays healthy he should have a breakout season in 2011. And if Burkhead gets some help from one or two of the new freshman recruits like highly regarded Rivals 5 star I-back

Aaron Green

or

Braylon Heard

or anyone else that may emerge from the stable, a lot of pressure will be taken off of Martinez. This necessity will pay huge dividends as the season progresses.
"In 2011 the Husker offense simply can't afford to make the same mistake they made last season — being so blindly dependent upon magical game performances by Martinez. Or for that matter worrying about whether or not he goes down."

If the O-line matures and the backfield tandem can consistently produce, QB, backups like

Brion Carnes

, or possibly even

Jamal Turner

are athletically gifted enough to make plays and put points on the board. At least that's how the Huskers should be approaching things this year. Besides, the Blackshirts will be more than capable of keeping any Big Ten offense in check and the team in the game.

Defense

Nebraska's D-line is deep and talented, led by two very good and experienced DTs in

Baker SteinKuhler

and

Jared Crick

(who should collect a lot of individual hardware this season to add to his trophy case). Barring injury NU's likely starting LB corps of

Will Compton

,

Lavonte David

and

Sean Fisher

shakes out to be one of the nation's very best lineups at the position. However, as talented a trio they are the Huskers could be vulnerable at the spot if strong backups don't develop during fall camp and through their non-conference schedule.

Nu's stingy defensive backfield led by rising star

Alfonzo Dennard

is going to make things hard for any opposing Big Ten QB and those fellas up front will make their jobs a lot easier.

Conclusion

In short —overall — offensively and defensively NU is simply a more athletically talented bunch and they play faster than any team in the Big Ten. The Blackshirts will cause Big Ten O-coordinators a lot of problems and the hurry-up offense loaded with explosive players will keep those defenses on their heels and guessing at what's coming at them next.

Since 1970 the Huskers have posted a 31-6 record against current Big Ten opponents  The aforementioned fact and the infromation and opinions presented above are why most unbiased sport experts and the early betting lines by Las Vegas odds makers pick NU to not only win the Legends Division but to also win the 2011 Big Ten Championship outright.

Expectations are high. But I believe the Huskers will pull it off and they just might land a berth in the BCS title game.
Bang! Bang!

Related Links

"Big Ten Football: Be Afraid, Very Afraid—the Huskers are Coming!"