Who are the Top 25 Senior Football Players In Nebraska?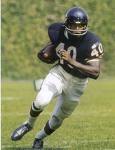 On Monday, September 21, 2oo9, myHitNews.com will post its Top 25 Nebraska High School Football Prospect Rankings.
The Class of 2010 Top 25 rankings Nebraska will be the second year myHitNews.com has ranked the top high school football prospects in Nebraska. Admittedly, this year's Top 25 is a bit late due to unexpected events. Therefore, because of the circumstances resulting in the delay, player evaluations and rankings have yet to be finalized. Of course, there should be no surprises as to who will be list as the No. 1 high school football prospect in the state.
 Andrew Rodriguez Is No. 1
One thing we know for certain about our 2010 rankings is that Andrew Rodriguez,, will be listed as No.1 football prospect in the state of Nebraska.
In early 2008, long before Nebraska gave him his first offer, MyHitNews.com stated—that Andrew Rodriguez, an athletic, 6-6, 310 lb OT out of Aurora, would be the odds-on-favorite to be listed as the No.1 prospect in the 2010 class (See article). At the time of our prognostication, many people didn't even know who he was until months latter when Nebraska made him the first 2010 recruit they offered.
Rodriguez is rated by almost every national recruiting services to among the top few O-line prospect in the country, and the closest thing to a "can't miss player" out there. Our definition of a can't miss prospect being: A player who at minimum should be an effective starter at a top-tier college program, and who possess the potential for greatness.
Andrew Rodriguez has all the tools necessary to one day be considered among the greatest lineman to participate on a Nebraska high school football team. That's a heck of a tribute considering the quality of the great linemen that have roamed the high school gridirons in Nebraska—Dave Remington come to mind?
Not Much Separates The Rest of the Pack

You will have to wait until next Monday to learn the identity and rankings of the rest of state's top prospects. But let it be known that there is not much separates the No. 2 ranked prospect from the No.10 prospect except that some may or may not have D-1A offer(s) in hand.
Spots 11 – 25 are all quality prospects—the vast majority of whom are more than capable of playing D-1A ball. In fact, there are probably 15 – 20 class of 2010 players who have the ability to be effective at the D-1A level. Of course, not all will get D-1A offers. Some will take the D-1AA or D-II route and others may take the walk-on route to a D-1A programs (most likely NU).
All in all, don't be surprised to see a different name or two in the Top Ten or a player ranked higher or lower than you have seen on other list. Just remember– its just an opinion! Some time we may get it wrong, but like a top-flight DB who gets burned for a TD, we got to let it go and work harder and focus more on limiting those mistakes.
 We Try To Bring it To You First
 Myhitnews.com was among the first to promote the potential of budding stars like Omaha Burke's Class of 2011 QB/ATH prospect Jimmie Forsythe (see article) and Lincoln North Star DB/WR/RB–ATH Yusef Wade (see article).
Jimmie Forsythe
Throughout the 2008 season, and thus far through the start of '09 campaign,  Jimmie Forsythe (6-0, 180) continues to live up to the hype this site first afforded him–before the then  sophomore QB started in Burke's '08 season opener. Currently, Forsythe is poised to be listed among the top Nebraska  prospects in the 2011 class.
Yusef Wade
In April of 2008, myHitnews.com featured an article and highlight video on an overlooked class of 2010 DB prospect named Yusef Wade (5-11, 175). Since that posting, Wade was invited to several D-1A camps, which he attened and performed admirabl.  Wade's efforts over this past  summmer led to a scholarship offer from North Dakota State (D-1AA) and to serious attention from the likes of Nebraska, Oklahoma, Iowa State and Kansas State. It should be noted that Wade earned all the aforementioned before the start of the '09 season.
Yusef Wade's  stock has definitely risen as the result of his first three games of the '09.  A season where he has showcased his increased speed (4.48 40yd) and play making ability at RB  by rushing for over 350 yards and scoring 5 TDs, while playing a position he has not played since the 8th grade.
Wade is a quality D-1 DB prospect, but his senior film will show his potential as a RB and/or an all-purpose back too—he already has some good stuff on film. And when evaluating prospects it's not about how much you gain or score but how you do it–the kid shows some skills!  
It's great to see a young man like Wade make the best of his opportunites. He definitely has worked himself into contention for the Top ATH prospect in the Class of 2010.
Stay tuned to see how we rank them and to hear more about the present crop of standouts as well as the future Nebraska high school prospects.
Related Links
Yusef Wade Named 1011 Prep Zone Athlete of the Week (link URL  removed by destination web site)