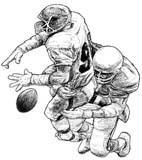 This is a paid advertisement
Maximize Your Exposure
The 2009 high school football season is in full swing and that means seniors who are seeking the opportunity to play at the next level need to be thinking about maximizing their exposure. 
Besides giving 100% effort on the field, the next best way to showcase your improved abilities to colleges is to have an early to mid-season senior highlight film that you can send out to them. Even better yet, let Hit Highlights produce a quality highlight dvd for you and we will post it on our You Tube site for free! This way you can send recruiters directly to the You Tube address of your newest highlights and/or even get new attention directed your way, thereby, maximizing your exposure.
Check out our video editing  Service Packages, pricing and fast turnaround production and delivery at www.hithighlights.com.
Save 25% on your next project when you purchace a plan (applies to all former Hit Highlights clients.)

Stay tuned to myHitNews.com for updates and articles on some of the top Nebraska high school football prospects in the class of 2010.
Maxamize Your Exposure and Get Noticed: 
We upload your highlight video to our YouTube page for free when you purchase a Hit Highlights Service Package.

Purchase a season highlight video.

Have us Re-edit an existing highlight video.

Add:your choice of music; highlight marks; subtitles or
special effects.
Check us out at

www.hithighlights.com