Breaking it Down to the Best of the Best
By Will Cummings
myHitNews.com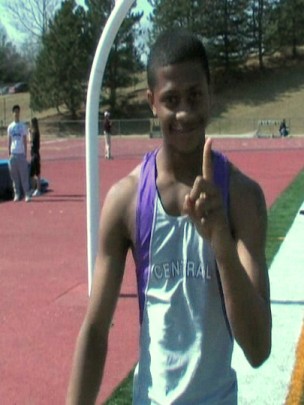 In myHitNews.com post "Poll: Nebraska HS Basketball loaded With Talent at Guard: Who Will Be the Best in 2009/2010?,"  I mentioned how talented the backcourts in Nebraska HS basketball will be in '09/'10. In addition, attached to the post is a poll "Who Will Be the Best Guard on the Floor in 2009/20010?,'" listing 14 guards–whom I believe are among the best in the State of Nebraska. Of course, I know there are other talented guards out there. But the ones listed in the poll are definitely recognized as being in the forefront when it comes to outstanding guard play.
   Most assuredly other guards will emerge this year and some of the guards listed in our poll may not live up to the hype. However, right now, the players in the poll lead the way going into the '09/'10 season. With that said, here is the breakdown of myHitNews.com's Preseason Top 5 HS Guards in Nebraska:

Pictured in the photo: Omaha Central's Deverell Biggs flashes the No. 1 sign, after an early season high jump last track season. The reigning All-Gold State High Jump Champ will be even deadlier this season on the basketball court. 
 Listed in alphabetical order
MyHitNews.com


2009/2010 Preseason Top 5 HS Guards in Nebraska
Deverell Biggs,
6-1, Omaha Central. Yep. In high school you will find this leaper—a state champion 6-foot-9-inch high jumper—posting up a lot as a forward. That's because at 6-1 he can practically jump out of the gym. But at the next level, the First-Team All-Stater will find himself playing guard.
Mike Gesell, 6-1,

South Sioux City

: Coming in as a freshman last season, this phenom already had D-1 schools enamored with his abilities. Now with one year of varsity play under his belt, he is poised to become an elite player.
Adonis Hill, 5-10, Omaha Burke, Only a junior, Hill displayed very good court command as a sophomore. He has a great first step—perhaps the quickest baller in Nebraska at the position. And he can drive the lane as well as deliver laser-like passes on the move or stationary from atop the key.
Ray McGaugh, 6-0, 160, Omaha Burke. A very talented player, who—when he is under control—is practically unstoppable. McGaugh has great hops and is deadly from the outside and can improvise in the air when he drives the lane.
Caleb Steffensmeir,

5-11, Omaha Creighton Prep.

Why not. He was very instrumental in helping his team in last year's playoffs and their eventual Class A championship victory. A good floor general with a nice, albeit sometimes inconsistent, stroke..
  That's right. Two of myHitNews.com's Preseason Top 5 HS Guards in Nebraska are Omaha Burke players. Going into the season, Burke has the best backcourt in Nebraska. The question is: Can Burke turn this bounty into a great season and a memorable playoff run in 2010?
   As for who truly is the best guard(s) on the floor in '09/010? We are about to find out!