Huskers Football On Verge of Returning to National Prominence
By Will Cummings
myHitNews.com
Vote below on outcome of the 2009 Big 12 Championship Game.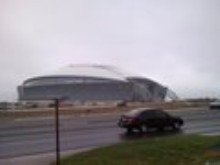 This week the spotlight will be shinning ever so bright upon the Nebraska Cornhusker football program as they prepare to take on undefeated and No.2 ranked Texas Longhorns at the audacious sparkling-new Cowboys Stadium, in Arlington, Texas, on Saturday, December 5th. A month ago, who would have thought, after the Huskers' loss to Iowa State–on their home turf mind you–that they would emerge from the debacle to post a 9-3 record and end up playing for the Big 12 Championship. But here they are!
   Hats off to Bo Pelini and company for keeping the team focused on its mission to win the Big 12 North and for re-establishing the importance of the running game at Nebraska. The latter will prove to pay huge dividends as the Huskers move forward in their quest to return to national prominence. 
 Huskers Find Missing Piece to the Puzzle
   It has been no secret that the Huskers have struggled throughout their history to entice the type of elite offensive skill players—namely highly regarded, strong-arm quarterbacks and swift, talented wideouts–that would enable them to perfect–over the long haul–a West Coast style or pass oriented offense. However, the Huskers' return to emphasizing the run should prove to be the missing piece in the puzzle that will enable the them to attract the types of recruits that will allow them to successfully compete on the national stage. Let there be no doubt: The Huskers are sitting pretty right now.
Huskers Defense Leads the Way
   Defensive Coordinator Carl Pelini is a master technician at developing defensive linemen. The brilliant play this year of Ndamukong Suh and Jared Crick are a testament to Pelini's work. And there are others in the pipeline like Baker Steinkhuler that are capable of following Suh's mastery. Consequently, the national attention Suh has already garnered, along with all the prestigious post-season awards that he will accumulate this year, are going to go a long way towards the Huskers' ability to rope in the nation's top defensive talent. Mix the Suh coup with the Huskers' new-found running game, which should allow them to lure in more top-flight running backs and O-line prospects–and you can see why the Huskers look like a program poised to retake its place on the national stage.
   But hold on, the Huskers still have a Big 12 title game to play on Saturday—a game they could win. Oh, my!
Nebraska High School Football Players Making Significant Contributions to Husker Success in 2009
Jared Crick, DL, Cozad: Sean Fisher LB, Millard North: Ricky Henry, OL, Omaha Burke; Alex Henery, K, Omaha Burke; Brett Maher, K, place holder, Kearney; Matt O'Hanlon, S, Bellevue East; D.J. Jones, OL, Omaha Central; Niles Paul,WR, Omaha North; Baker Steinkhuler, DL,Lincoln Southwest.
Colt McCoy vs Ndamukong Suh: Winner Takes All
   In my opinion, the winner of the 2009 Big 12 Championship Game will be determined by he performances of–arguably– the two best players in college football: Texas' Heisman Trophy candidate Colt McCoy vs Nebraska's All-World candidate Ndamukong Suh. If Suh can manage to consistently wreck havoc along the line of scrimmage and penetrate enough times into the Texas backfield to frustrate McCoy, Nebraska has a very good chance of pulling off a huge upset, as long their QB Zach Lee and RBs Roy Helu Jr. and Rex Burkhead can control the ball on offense. 
   A Nebraska victory on Saturday night would send them packing to a BCS bowl game and national recognition, after a decade long absence. Can you just imagine what a Big 12 title would bring to Nebraska? 
   On the other hand, if Texas' Mack Brown and staff can deliver an answer for Suh, and Colt McCoy plays like he did this past Saturday against Teas A&M—scrambling for 175 yards —it will be a miserable night and a long trip home for the Huskers. An embarrassing loss against the Longhorns may not hurt the future of the Husker program but it sure wouldn't help it either.   
   Do I expect the Huskers to win? No. But at the same time, I definitely would not be surprised to see the Huskers shock the world this Saturday.  
[poll id="12″]