Performance and Potential Propel Kearney's Luke McNitt  into Top Ten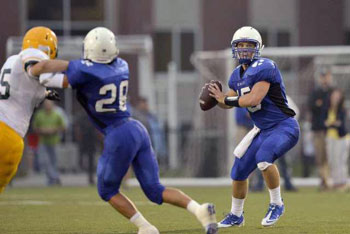 Early season action sees several seniors turning heads for the first time, while other top Nebraska high school class of 2013 prospects continue to impress.
The top new senior head-turner of the 2012 season is Kearney dual-threat QB Luke McNitt. The burly and athletic prospect went from being unranked in our preseason rankings to capturing the No. 10 spot on MHN's Early-Season Top 25, due to the strength of his early season performance and his potential to play  D-1 college football.
Despite being decisively outshone by Millard North QB Isaac Aakre (MHN No. 12 ranked prospect) in the Bearcats' 28-38 loss to the Mustangs, last Friday, the 6-2, 215 lbs. McNitt continues to demonstrate his potential to develop into a quality college football player.
Going into the Millard North contest, McNitt was 5th leading rusher in Class A with 360 yards on 51 carries.  But the stingy Mustang D managed to coral McNitt, holding him to only 38 yards on 13 attempts. Aakre, on the other hand, ran through Kearney—collecting 271 yards and 4 TDs on the night.
Isaac Aakre is an outstanding high school football player, but in my opinion between him and McNitt playing the QB position at the college level—McNitt has the advantage over Aakre because of his size and better arm. Also, I really like  how McNitt looks on film: he shows very  good athleticism and power. McNitt is the kind of kid that gives you the feeling that he will somehow find a way to make an impact somewhere on a college team.
Aakre and McNitt are both very talented athletes that have the skill sets to play skill positions other than QB at the D-1 college level. Hopefully, they will get the opportunity. They deserve it!
Other New to the Top 25 Prospects
The other new Top 25 entries to join  McNitt  are Nebraska  recruit Christian Lacouture, a  6-5, 270 lbs. Rivals 3-star DL prospect from College Station, Texas' A&M Consolidated High School. Lacouture transferred to Lincoln Southwest and now sits at No. 2. on the Top 25. Wide receivers Stacy Keely (Omaha Northwest) and Papillion-La Vista's 6-2, Spencer Lewis are the only other new editions to the Top 25.  
After only three games this season, Keely has grabbed 11 balls for 217and 4 TDs (No. 5 in Class A), while Lewis ranks No. 3 in Class A with 272 yards and 5 TDs on 19 catches. Both players also happen to be dual-sport standouts, too. Keely won the all-class gold medal in the high jump at the 2012 Nebraska state meet and Lewis was a 2011/2012 season all-state honorable mention selection in basketball for the Monarchs.
Michael Minter Jr. Falls
Lincoln North Star's Michael Minter Jr., previously ranked at No. 3, dropped out of the MHN Top 10 to No. 11, as a result of him allegedly being booted from his team.
Minter supposedly had several D-1A offers before his dismissal. However, in light of the current circumstances, at this point it is unlikely that a D-1A school would take a chance on Minter Jr. In most cases D-1A schools will only reserve taking a chance on troubled prospect when the athlete possesses "special-type-talent, or if there is some sort of mitigating circumstance surrounding the athlete's issue."
Minter has not demonstrated that he has "special talent" and it sounds by all accounts that he was given numerous chances, along the way, to straighten out. So his best shot at ever playing big time ball may be to suit up for a JUCO.
Whatever, I hope Mike Minter Jr. can figures it all out before there are no more chances left to be given to him.
The MHN End-of-the-Season Top 25 will be posted shortly after the second week of the Nebraska High School Football Playoffs.
1. Josh Banderas, LB, 6-2, 220,


Lincoln Southwest

.

Rivals: 4 Star—5.8; ESPN: 81—4 Star. Goodies: Athleticism & high football IQ. Offers: Nebraska (committed), Iowa, Iowa State, Kansas State, Oregon, Tulsa, Vanderbilt.
The Nebraska 4-star recruit will not wow you with his physical size or any single athletic measure—but he will make you wide-eyed when you watch him play. Banderas plays with a high intensity motor and reckless abandon fueled by an extremely high football IQ. All of which allow him to be at the right place at the wrong time for an opponent. The native Lincoln, Nebraska prospect seems to possess all of the skill sets and intangible assets necessary to develop into a very fine college LB. And he gets to do it in his own backyard.

2. Christian Lacouture, 6-5, 270
Lincoln Southwest. Rivals: 3 Star—5.7; ESPN: 78—3 Star. Goodies: Great frame, good athleticism. Offers: Nebraska (Committed), Alabama, Auburn, Baylor, LSU, Michigan, Missouri, Oklahoma St., Texas, Texas A&M, Texas Tech, Utah.
This Nebraska Cornhusker recruit is a recent arrival from College Station, Texas' A&M Consolidated High School where he played until moving to Nebraska after his junior season. Lacouture is solid all the way around, possessing good quickness and power. His large frame should allow him to easily add mass and to comfortably play around the 300 lbs. range at Nebraska. That will be some good Big Ten beef along the trenches for the Huskers, where Lacouture will most likely be plugged in at DT.

3. Nathan Bazata

, OG/DL, 6-3, 245,


Howells

.

Rivals: 3 Star—5.5; ESPN: 72—3 Star. Goodies: Pad level & quickness. Offers: Iowa (committed), South Dakota State.

Bazata has a quick two steps off the ball, great pad level and leverage that allow him to play sideline-to-sideline or make plays deep into opposing backfields. He also uses his hands well to blow by defenders or to control them for a shed and tackle. It's no wonder this Class D prospect received an early offer from Iowa!

4. Casey Sayles

, TE, 6-4, 260,


Omaha North. Rivals: 2 Star—5.4; ESPN: NA. Goodies: Big frame w/speed. Offers: Bowling Green, Ohio, South Dakota.
A very solid blocker with a long wide frame and good hands. He also flashes the ability to quickly accelerate after making the catch (listed 4.7 speed) which allows him to pick up huge chunks of YAC. The TE prospect can also play some DE.

5. Nick Deluca

, LB, 6-2, 220,


Millard North. Rivals: 2 Star—5.4; ESPN: 68—2 Star. Goodies: Athleticism & size. Offers: Ohio, North Dakota, South Dakota, South Dakota State.

He shows the ability to develop into an effective college inside backer. Takes good angles to the ball and has the power and athletic ability to take on blockers and hold his ground and/or to just get small, slide by and fill the gap—sheds and tackles well.

6. Tyler Wrice, ATH, 5-9, 175,
Papillion-La Vista. Rivals: NA; ESPN: NA. Goodies: Quickness & versatility. Offers: North Dakota State, Northern Iowa,

Illinois State

.

For a two-way skill position prospect, Wrice possesses perhaps the top overall talent in the class for an athlete that can play effectively on offense or defense at the next level. However, most of his suitors are looking for the cat-quick Papio Monarch to play CB. But in case they have a need—he could also add some flavor to an offense.

7. Jake Schlager, DB, 6-1, 190,
McCook. Rivals: NA; ESPN: NA. Goodies: 4.46 speed & size. Offers: South Dakota State, South Dakota.

A projected SF at the next level, Schlager shows impressive athleticism, tremendous quickness, and the speed (4.46) necessary to successfully execute a blitz or to make his way to the ball whether it's a runner carrying it or it's coming via the pass. Also illustrates toughness and a strong football IQ—a surprisingly gifted athlete that I suspect is high up on the list of safety prospects at several D-1A programs. A strong senior season could make at least one of those schools pull the trigger on him.

I

like this kid!

8. Devin Washington, RB, 5-9, 170,
Lincoln Southeast. Rivals: NA; ESPN: NA. Goodies: Vision & elusiveness. Offers: NA.

The best pure RB in the class, Washington has the quickness and elusiveness to create a hole and the speed (4.42) to blow by defenders and take it the distance—tremendous vision and the ability to make the difficult catch out of the backfield. A durable back who rushed for over 1,900 yards in 2011. It's a wonder to me that he has no offers listed.

 
9. Colin Mertlik, ATH, 6-2, 200,


Blair.

Rivals: NA; ESPN: NA. Goodies: Athleticism and Strong football IQ. Offers: South Dakota.

Mertlik is a football player who carries the whole package: size, speed toughness and athleticism galore. This kid can definitely play on either side of the ball at the next level. On offense he shows outstanding vision and good burst and elusiveness from whatever position he decides to line up at in the backfield. Also, he is a very good receiver as well. On defense he is just as impressive as a LB. Look for him to grab more attention from college coaches.

10. Luke McNitt, QB, 6-2, 218 Kearney. Rivals: NA; Goodies: Athleticism, power, throws nice ball. Offers: NA.
One to watch! McNitt has followed a solid 2011 junior season by blowing up in impressive fashion during the first few games of his senior year. Make no mistake about it—McNitt is a legitimate D-1A dual-threat QB prospect: He throws a good ball with a nice touch, and the athletically gifted prospect has the foot quickness and moves to elude would-be-tacklers and/or the power to flat out run them over if need be. The latter (power and explosiveness) was also illustrated last spring when he paced 3rd in the Class A shot put at the state meet.
11. Michael Minter Jr., DB/RB, 6-1, 180, Lincoln North Star. Rivals: 3 Star—5.6; ESPN: 79—3 Star. Goodies: 4.46 Speed. Offers: Purdue, South Carolina.

Minter has the potential to become the most successful college prospect in this class. Projected to play CB at the next level, he is blessed with the kind of physical height college defensive coordinators are seeking nowadays. In pass coverage, he demonstrates the flexible hips and quickness that can allow him to recover quickly from a sudden juke and make a play on the ball. He's also a solid tackler. A strong senior campaign could see him snatch a boat load of offers.

12. Isaac Aakre, QB/ATH, 6-0, 180,


Millard North.

When it's all said and done Isaac Aakre may tally more career yards from the line of scrimmage than anyone in Class A history. A high quality athlete that should find a home somewhere at a division I program.

13. Bryce Sheard, WR, 6-3, 185,


Papillion-La Vista.

A big and athletic possession-type receiver that has a knack for picking up YAC. In 2011, Sheard averaged over 18 yards per catch and he is off to another strong start this year.

14. Luke Worden, DB/RB, 5-9, 180, Scottsbluff. Rivals: NA; ESPN: NA. Goodies: Speed & power. Offers: South Dakota.

He may be the fastest athlete in the class (4.40 40 yard) and he also boast some of the top strength and agility measures for a skills position prospect, which include a 360 lb bench and 4.13 short shuttle time. A projected CB at the next level Worden demonstrates the toughness and skill sets to make an impact in college.

15. Vinny Ross, OL, 6-5, 265,


Perkins County.

Rivals:

NA;

ESPN:

NA.

Goodies: Quick hands and feet.

Offers North Dakota.

Projected to play OG in college, Ross shows good quick hands and feet while maintaining nice pad level for his size. A dominate lineman who can drive defenders off the line and into the dirt.

16. Dillon Gartner, OL, 6-4, 290,
Gothenburg.

As dominate as he looks on film plus his size—somebody is bound to pick this big stud up.

17. Freeman Coleman, DL, 6-3,

260,


Millard South.

He is too good to not list near the top of some college boards. So if Coleman shines on the field this year he will get some nods.

18.  Zach Martin, QB, 6-3, 180,


Omaha North.

Extremely impressive at times last season, this Viking gunslinger will have to convince college coaches he can play with consistency. So far he is doing just that in 2012.

19. Bryce Sosnowski, DE, 6-2, 215,


Millard South.

Quick and athletic Sosnowski is adept at finding his way to the ball and making his opponents pay.

 
20. Tradeon Hollins, DB, 6-2, 175,


Omaha Central.

A lot of athleticism here. The second team all-state basketball player also played a key role on offense and defense for and Eagle's football team that went deep into the playoffs last season.

 

21. Na-jee Jackson, QB/ATH 6-1, 160,


Lincoln Southeast.

He engineered his team to a 2011 Class A state championship. Along the way the athletic Jackson showcased flashes of a very live arm—one of the better ones in this class. He can also play some DB.

22. Stacy Keely, WR, 6-8, 195,


Omaha Northwest

A big and athletic target, the 2012 Nebraska state meet high jump champion has started the season off with a bang.

23. Jackie Davis, RB, 5-8, 175,


Omaha Central.
A fearless, quick and explosive back with good vision. He rushed for nearly 1,500 yards last season.


24. Jackson Gannon, DL, 6-2, 245,


Kearney.
Gannon is one to watch. He's a quick DT that plays with intensity; A little undersized—now—he is a project waiting to happen!

25. Spencer Lewis, WR,  6-2, 175


Papillion-La Vista

A quality dual-sport star athlete (football and basketball) who has emerged this year to become one of the top receivers in the state.

Ones to Watch

:

 Connor Phillips, WR, 6-0, 160 Omaha North; Noah Housh, WR, 6-4, 210, Lincoln North Star; Mike MilenKovich, DL, 6-4, 265, Creighton Prep; Lee Carhart, OL, 6-5, 260, Creighton Prep; Zack Cook, QB, 6-2, 198, Omaha Burke; Bennie Olson, ATH 5-9, 180, Millard South; Preston Luedtke, DB, 5-11, 175; Lakeview; Alex Lowe. LB, 6-0, 200,  Kearney Catholic; Jordan Bellar, QB 6-0, 160, Norfolk Catholic; Lucas Grossman, OL, 6-4, 295, Lincoln Southwest;; Craig Timmons, TE, 6-6, 210 Omaha Westside; Jake Jordan, RB, 5-11, 205, Lincoln Southwest; Desmond Robinson, ATH, 5-9, 155, Lincoln Southeast; Nick Marchese, DE, 6-3, 240, Millard North; Colton Steer, LB, 6-1, 215, Crete; Matt Chitwood, DB/WR, 6-2, 180, McCook; Erik Evans, TE, 6-3, 220, Waverly; Quentin Williams, RB, 5-6, 160, Millard South; Zachary Oslica, OL, 6-2, 245, Bellevue West; Connor Ketter, TE, 6-5, 220, Norfolk Catholic; Landon Kubicek, OL, 6-4, 290, Lincoln Southeast; Fernando Hildreth, DB, 5-9, 150, Boys Town; Zach Reeves, OL, 6-4, 270, Central City; Sam Stoltenberg, FB, 6-1, 235, Creighton Prep; Blake Johnson, DE, 6-4, 200, Elkhorn South.
Related Links
2012 Nebraska High School Football Leaders, September 14
MHN Class of 2013 Preseason Top 25 Football Prospects
MHN Class of 2013 Nebraska H.S. Football Prospects Board
Class of 2013 You Tube Prospect Highlight Videos