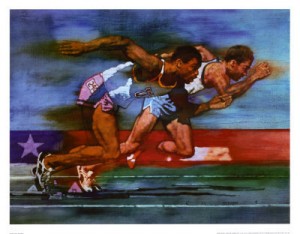 Josh Mead finishes Kearney's Victory in the 4X100 relay event at Omaha North Invite.
The Kearney boys track team left no doubt that they would continue their consecutive dual meet streak by racking up 230 total points at the Omaha North Invite. Their boys team is truly deep indeed. They have solid performers at least— two deep—in most events and they are three deep in several. Their sprinters may not be the fastest, but they are a solid disciplined bunch that flawlessly works together as a team. They demonstrated as much by handily beating North's number one rated 4X100 relay team, while posting one of the season's best times (42.56).
It's been three years since the Bearcats have held the Class A state championship trophy in their hands—and it won't be four. There are only two ways  that Kearney will not carry home this year's trophy: (1)  A complete meltdown or (2) a whole bunch of athletes on other teams will have to achieve times and distances that they have never achieved. Both scenarios are highly unlikely to occur.
This meet was short on flare in that there  were really no eyeopening times or distances, but it did have a moment. That moment came in the boys 100 meter dash when Nic Johnson, at seventy meters, turned to his team mate, Kirk Carter (on his left) and started talking to him and pumping and waving his right arm all the way through the finish line. Johnson's actions—deservedly so— cost him a first place finish to his teammate, Carter,  who was also yelled back at Johnson but not so boisterously and without all the arm gyrations that Johnson displayed.
In short: Johnson's actions have no place in this sport. Even more so, when your team is getting throttled by the competition. I write this in hopes that Johnson and any other young athlete that sees this will understand that "you are not on an island-alone by yourself —when you compete on the playing field." How you conduct yourself on the field of play not only has implications for you but for your team as well. Your actions good or bad reflect upon your teammates, coaches and school—think before you act!
The Hit News Highlight Performer of the Meet is Cierra Sellers. She won the 100 meter (12.73); 200 meter (26.08); 3rd in the long jump (15'7.5″); and was a member of the winning 4×100 relay that set a meet record (48.84), which is the All-Class season's best time  . Other notable performers were: Brett Maher with victories in the pole  vault (14′) and Long jump (22'6″). Despite his actions, I cannot deny Nic Johnson his due for turning in the third best Class A 400 meter time of the season. Based on what I saw, he will be a serious contender for the state 400 title.  And Colin McDermott of Creighton Prep had a nice  53′ 1/2." shot put heave. Team champions: Kearney (Boys) and Kearney (Girls).
See Omaha North Invite video highlights below:
httpv://www.youtube.com/watch?v=3tun5DzZ_LY