The calm before the storm, a hidden gem is about to burst onto the scene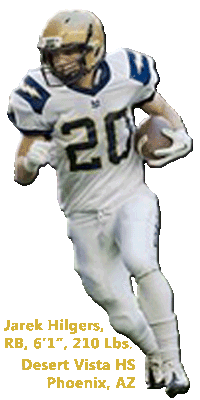 Jarek Hilgers, a 6-foot-1, 210 lbs. running back from Phoenix, Arizona's Desert Vista High School, may be the country's best RB prospect in the class of 2013 that is—not—already holding a D-1A offer at this point in the recruiting cycle.
In fact I'm so confident of what my eyes have seen and what my gut is telling me that I believe not only will this superstud receive a D-1A offer(s), Hilgers will move on to become a successful feature back at the college level.
I first learned about Jarek through an email sent by his dad, Dr. Kyle Hilgers, a practicing dentist in the Phoenix area and a former running back at Arizona State.
The physical and athletic measures he provided to me in regards to his son were stunning:
Jarek Hilgers By the Numbers
40 Yard Dash
Short Shuttle
Vertical
Broad Jump
Squat
Hang Clean
4.5
4.1
38″
9'10"
600 Lbs.
345 Lbs.

National underclassmen Combine King-State – 2011




National underclassmen West U-100 Combine King – 2011




Invite to Junior Rank Semper Fi Combine – 2012




 Led all Arizona 5A Div. 1 RB's in Yds/Att @ 11.94 (11/19/11)




Track and Field: Arizona State Meet 3rd in long jump – 2011
Sure, I'll admit that I was skeptical about those numbers. They were too good to be true, I thought. But then I saw his highlight video (see video below this article).
The kid with a 38" vertical who can hang clean 345 lbs (say what!), squat 600, lbs, run a 4.5 forty and a 4.1 short shuttle also has the ability to transfer every bit of that dynamic power, explosiveness and speed into his movements on the football field.
Hilgers is an athletic north-and-south power back that can quickly hit a hole and eat up backers in a hurry. Yet what separates him from your typical notion of a north-and-south back is that once he arrives at the second level he has the skill sets to either bowl over a would-be-tackler or to quickly plant and explode past them. He shows very good explosiveness and acceleration off his cuts and the ability to make more than one cut on a particular play while still maintain his speed. And just in case you are wondering he can catch, too.
Strong Work Ethic and Highly Competitive Spirit
The true essence of Hilgers' potential is found in a combination of the little things he does so well when he is running with the ball like his exceptional balance, being able to cut on a dime, squaring up and lowering his shoulder at just the right moment, the tenacity to always run to a point at full speed and last but not least his work ethic and competitiveness.
An athlete simply can't put up those kinds of ungodly numbers in the weight room unless he has a tremendous work ethic which apparently seems to carry over into the class room where Jarek currently maintains a 3.69 GPA.
Wrap Jarek's physical attributes up along with his strong work ethic and his highly competitive spirit (National Underclassmen Combine King awards, state meet 3rd place finish in the long jump and helping his football  team win the 2011 state championship) and I believe he has all the tools in the arsenal to develop into a very special football player.
Why Jarek Hilgers Does Not Have Any D-1A Offers?
After watching Jarek's highlight tape and researching his athletic exploits, I put that question to Dr. Hilgers: "I'm trying to wrap my head around why Jarek has not been offered yet. He is the kind of prospect who should have offers by now. Help me out here," I said to Dr. Hilgers.
"He didn't get a lot of playing time. He played behind a good senior back and the head coach's [Dan Hinds] system is really geared towards senior participation. But as the season progressed they used Jarek more. He got most of his opportunities during the playoff run. So I guess to answer your question, he did not get a lot of exposure on the field," Dr. Hilgers replied.
Hilgers only carried the ball 57 times last season; however, he made the most out of those opportunities by rushing for 622 yards and 8 TDs, averaging 10.91 per carry (highest avg. in Class 5A Div 1. Jarek also caught 6 passes for 76 yards and 1 TD.
Schools Take Notice
According to Dr. Hilgers, despite Jarek's limited playing time schools have taken notice. Oregon has invited him to a camp and University of California is in the process of doing so as well, while Stanford and Arizona University have also been in contact. In addition, Jarek was recently invited to participate in the National Underclassmen 5 Star Camp that will be held in late March.
It's not like the Desert Vista Thunder staff doesn't realize what they have in Jarek Hilgers. Paraphrasing Dr. Hilgers: during our conversation he mentioned to me that at his son's football team banquet coach Hinds introduced Jarek by saying to the crowd that this is a guy who can break all the records next year.Jarek's running back coach, Terrance Roberts, wrote:
"Jarek is one of the best running backs in the state of Arizona.  He possesses the ability to make defenders miss or power right through them.  He is also one of the strongest football players in the state.

Jarek's natural leadership, prestige and aptitude reflect through his dedication for the game making him an overall elite athlete."
It appears that the Desert Vista staff has high expectations for the talented RB. Fortunately, Jarek's body is also cooperating as he prepares for the increased demand of carrying the load for his football team. His dad says Jarek has added to his junior year 6-foot, 200 lbs. frame by picking up another inch in height and ten pounds of muscle.

ESPN High School Game of the Week
Next season state champion Desert Vista Thunder and Jarek will be put to a test right off the bat in their first game when they face the USA Today  No. 5 ranked team Bishop Gorman (Las Vegas, Nevada). The 13-1 Thunder finished the season ranked No. 11 by the publication.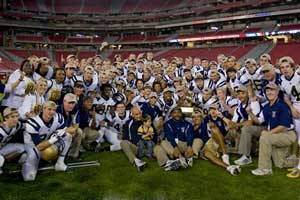 Dr. Hilger said there is talk about ESPN televising the contest as part of their high school game of the week programming.
I am just wondering whether or not by that time his son will still be waiting on his first D-1A offer?
They don't come much better than Jarek Hilgers.
Jarek Hilgers 2011 Junior Season Highlights
Related Links
USA Today Super 25 High School Football Teams