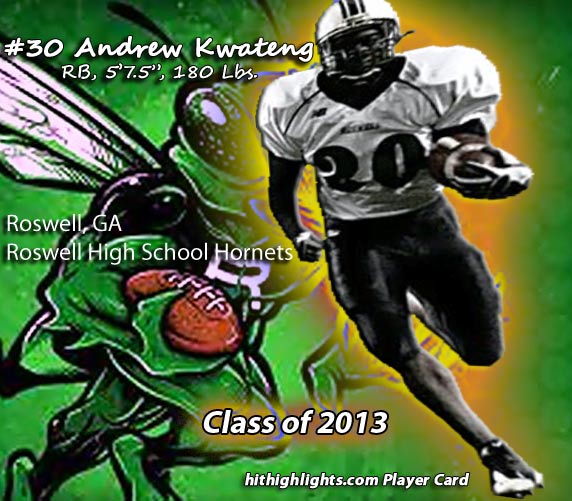 In 2010, sophomore Andrew Kwateng busted onto the scene helping to lead his Roswell High School football team deep into the Georgia Class AAAAA state playoffs.   
Kwateng dazzled the crowd and had college coaches leaning forward while he accounted for over 1,400 all purpose yards as a sophomore. Accordingly, there were high expectations for a monster junior year from the quick, explosive 5'7", 170 lb. back.  Unfortunately, Andrew was slowed down by an ankle injury for much of 2011. Yet he still managed to remind college football coaches why they should do more than just keep tabs on him.
Even though the injury limited him to appearing in only 4 or 5 games last season he still gained over 421 yards on 79 carries and scored 4 TDs.  More importantly, Kwateng improved: showing more explosiveness and speed.
When I watch Andrew run I can't help but be reminded of one of my all-time favorite small backs, Darren Sproles (current New Orleans Saint all-purpose back and former Kansas State star). 
Sproles (listed at 5'6", 190) can make that hard jump-cut and be at full speed two steps later. And if Sproles can't out quick or out run you he will lower the boom on you. Kwateng flashes that kind of Sproles-like potential.
Currently, Andrew reports a 4.49 40 yard dash time and he tips the scales at 180 pounds. Package those measures along with his tough explosive running style, ability to catch the ball and elusiveness—he truly is a very intriguing prospect.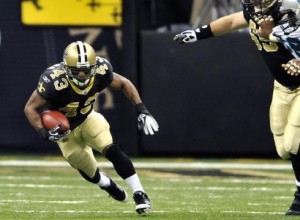 Andrew's father, Kwaku, says that Boston College, Vanderbilt, Georgia Tech, Penn State, Mississippi State, Wake Forest, and University of Illinois are showing strong interest, right now. Tentatively, Andrew has plans to camp at most of those schools during the upcoming spring and summer.
After coming off the wrestling mat where he took 5th place in the 170 lb. weight class at the 2012 Georgia 5A State Wrestling Championships, Andrew is headed out to the track where he will compete in the 100 and 200 meter sprints.
Keep an eye out on this fella, folks.  If Andrew Kwateng stays healthy you may be hearing his name for quite some time.
Below, check out Andrew Kwateng's 2011 highlights.
Related Links
One of the South's Finest Running Backs: Andrew Kwateng