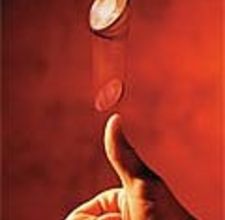 I've been busy the past couple of weeks taking care of some business, but my absence from MHN did not mean that I missed following the action.
The following is a list of  a few things that really grabbed my attention while I was "away":
Grand Island blows a 21-0 halftime lead over Lincoln Southwest. Sounds like Knights head coach

Ryan Gottula

made some great halftime adjustment by bringing in a 5th DB to shake up Islanders QB Ryker Fyfe. Southeast QB Najee Jackson went 7-10 for 231 yards and 3 TDs, while RB

Devin Washington

 picked up 146 on the ground. All 4 of GI's TDs came off the arm of Fyfe who finished with 265 yards on 23-33.
Burke escaped a 42-41 scare from Millard West last week to finish the regular season undefeated. According to the Omaha World-Herald, the Bulldogs are the first OPS schools to sweep a season since 1993. I bet that if the guys at the Herald dug deeper into the books they would find that Burke gave up more points to opponents than any undefeated team in Class A history. This is problematic for the No. 1 ranked team in the state: the 2011 Class A playoffs are LOADED with teams that can put points on the board in bunches.

Paul Limongi's

 9-0 Bulldogs are the No.1 team in the state, but their defensive woes makes them far from a lock to capture the title.
Millard West sophomore WR Skyler Monaghan had an absolute monster of a night against Burke, racking up 271 yards on 13 receptions and scoring 4 TDs. Whoa!

The Omaha Northwest Huskies, under head coach Damon Benning, posted their third consecutive winless season. Huh?
This Friday the best field of Class A football teams in recent memory will kick off the run to the title. And I'm going to tell you, now, that in the weeks to come I have absolutely no clue as to which school will be dangling  a 2011 Class A football state champion banner  inside their gymnasium.
This one is a mystery, wrapped in a riddle, full of intrigue, featuring a bevy of outstanding players and coaches.  Let's get it on!
Looking at the top half of the bracket, Westside should get by Papio South to make it to the quarterfinals. However, that will probably be as far as they go, because the Warriors will have to face either Burke or Millard North…I don't feel comfortable at all about picking a winner here. Central will move on to play Grand Island next Friday. That should be a dandy.
The bottom half of the bracket: Lincoln Southeast will meet the winner of the Millard West vs. Millard South contest.  Millard West – should – come out on top, but you never know with those two neighborhood rivals playing each other. Kearney vs. Papio is another tossup game in the first round. Unfortunately, the winner will have to meet up with a very good and improving Lincoln Southwest squad led by Kansas State recruit Tavarius Bender.
Both of those November, 11th Class A semi-final games look like they will be feast for football fans.
2011 Nebraska Class A Football Playoff Bracket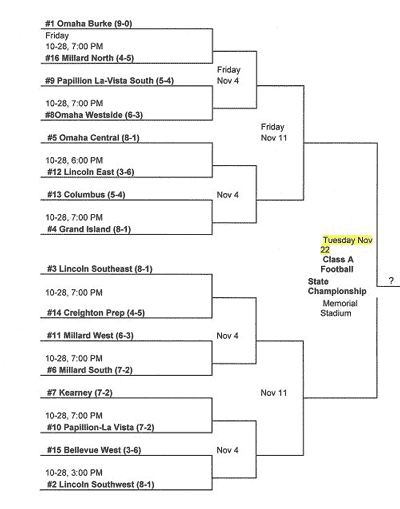 Note: The MHN End-of-Season Top 25 Nebraska High School Football Prospects – Class of 2012  is scheduled to be posted in two weeks. Feel free to email MHN with your opinions and/or comments or to chime in about your top prospect choices (by) leaving a comment on a post.
Related Links
Nebraska High School Statistic Leaders, Oct 21