2011 Nebraska High School Football Regular Season Stat Leaders
Patriots are Last Millard School Standing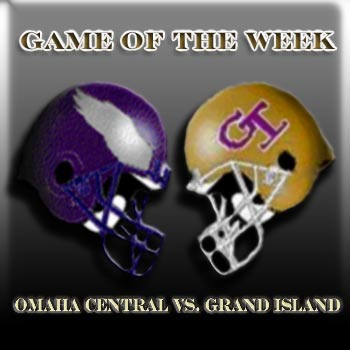 There were 16 Teams entered into the 2011 Class A football state playoffs – now there're only 8 that remain.  Tick, tick.
Burke holds on to defeat defending Class A champ Millard North. Next game up for the Bulldogs is Papio South, a team that pulled out a rather surprising victory over Omaha Westside. I really didn't see that one coming.
Clap, clap Titans on your first playoff win in school history. Unfortunately, I highly doubt that you will see another this year. Baring a catastrophe, after Friday's match against P-South, Burke will move on to the semifinals where they will face either Central or Grand Island.
Game of the Week
On paper, Friday night's Eagles vs. Islanders game looks delicious.  I'm leaning towards central ending Grand Island's season, but every time I think about that long bus ride out west I begin to rein myself back in a little.
My gut says Central wins mainly because the Islander stout defense has not faced a team this year with the type of speed and quickness coming out of the backfield that the Eagles possess in their explosive RB tandem of Jackie Davis and Quentin Williams. The Eagles also field a very athletic D that should similarly pose problems for Ryker Fyfe and company.
All OPS Semifinal
If my predictions hold up, the semi finals will pit Burke against Central in a season rematch.  Burke won round one in a close, scrappy, 14-7, first- game-of-the-season battle.  The loss to Burke represents the only blemish on the Eagles 9-1 record and I'm sure they will want revenge.
However, first things first! Both teams will have to win on Friday to make next week's semi an all OPS affair.
Lower Bracket is an All-Lincoln Affair
The lower bracket features two titillating quarterfinal matchups. Lincoln Southeast vs. a surprising Millard South. Despite the recent resurgance of Patriot football, I don't see them  getting by a very good and well-balanced Lincoln Southeast squad. Of course that will mean no more Millard schools will be left in the tournament.
After three straight years of all-Millard Class A football state finals, the other big boys in Class A will get a chance to flex their muscles.
Papillion-La Vista vs. Lincoln Southwest: If a quarterfinal upset is to occur on Friday this is where it will be. Nonetheless, I'm still picking Tavarius Bender and crew to win this game.
Next week we should see another season week 0 rematch in the semi-final, when Lincoln Southeast takes on Lincoln Southwest. The first game of the 2011 season saw Southeast edge Southwest by a score of 17-12. Both teams have steadily improved as the season has progressed, thus making this likely all-Lincoln semi showdown a must see.