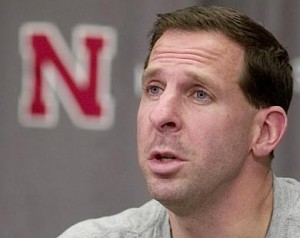 Ever since that Texas A&M embarrassment, it's beyond me why Bo Pelini and Tom Watson continued to stick with Taylor Martinez as NU's starting QB. It's even more baffling that they keep him in the games–even when it's clear to everyone else watching that the kid just don't got it–at least not since he turned the ankle.
The Nebraska team did not deserve to lose this game to the Washington Huskies nor the Texas A&M and Oklahoma games. However, Bo Pelini deserves all three of those losses for allowing his offensive coordinator Shawn Watson to keep pushing Taylor Martinez into the starting role and keeping him on the field after and during miserable performances. Or were those Bo Pelini's decisions? No matter–the buck stops at Pelini's desk.
Now the Huskers go crawling out of the Big 12 and limping into the Big Ten. Nebraska's 7-19 loss to Washington last night may have just closed the window of opportunity on a Bo Pelini championship-filled coaching career at Nebraska. And he has no one to blame but himself.
"Ugly, demoralizing, flat-performance and huge upset losses like the 2010 Holiday Bowl thumping just have a funny way of sucking the wind out of the sails of a program and derailing the best laid intentions."
It's back to square one for the Huskers and that's not a good place to be when they are headed towards the Big Ten. A place where their new cross-border and division rival the Iowa Hawkeyes must be chomping at the bit to get a taste of Husker tail, after witnessing NU's O and D linemen getting dominated by the lowly Huskies and an offense that just couldn't move the ball to save their lives.
Big Ten: Nebraska vs Iowa Rivalry Begins
My bad! About two months ago I picked the Huskers to win the Big Ten in 2011. Fellas, I'm taking a mulligan on that one–right now!  The Huskers got talent but the coaching staff is far from having their act together. It's going to be a long winter for Pelini and crew.
The Iowa Hawkeyes may not have the depth of talent that the Huskers have, but their combined coaching acumen is miles ahead of Nebraska's. You need both talent and coaching to win championships and the Iowa Hawkeyes look to be a better bet than the Huskers at this point. 
The Iowa Hawkeyes vs Nebraska Cornhuskers Big Ten border rivalry has officially begun. The only questions now are what will they name the new game trophy and what will it look like.
So lick your self-inflicted wounds Nebraska: Welcome to Big Ten Football!
Related Links:
Nebraska: Time to cut Losses by Hiring New Topflight Offensive Coordinator 
Omaha World Herald Dirk Chatelain: A year ago Nebraska was back, but now?