Okafor Gives  Good Performance At Spring Game

By Will Cummings
myHitNews.com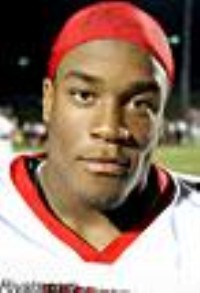 The first time I saw Collins Okafor play football was a season opening game at Westside High School, during his junior year. Okafor was not a starter for Westside—he was not even one of the preseason players Westside expected to be among its major contributors. Even more daunting–his own teammates used to tease and taunt him because he did not play his sophomore year due to an injury. However, shortly after he entered the game, he bolted out of the backfield for a sixty plus yard TD. "Who was that?" I thought to myself.
    A couple of games latter—as a result of delivering similar results, Collins Okafor became a starter for the Westside Warriors. Soon after, towards the end of his junior season, Nebraska's head football coach, Bill Callahan, (A Must Read: See arcame calling with an offer to the emerging football star. Until I read an Omaha World-Herald article ticle here,) I did not know—at the time—Okafor's junior season was just his second year of playing football. Nor did I know that Okafor spent the summer before his junior campaign training with some guy named Yano Jones.
I never met Mr. Jones until a couple of months ago when I visited one of hisRedzone Leadership Academy training sessions–I was thoroughly impressed by the program and Jones' extreme passion and commitment to helping young men achieve their dreams.
   Okafor and Jones still maintain a very strong relationship. Okafor visits and speaks with Jones on a regular basis and during the recent spring break, he even spent some time getting in a little workout and helping out at Redzone.
    Since my first meeting with Yano, he would often tell me that Okafor was ready to make an impact this year. He kept  telling me how dedicated Okafor was to his training routine at Nebraska and how he was getting so much bigger stronger and smarter. But I never expected to see Okafor being the leading rusher in the Spring Game–and to look so good doing it.
    As I stated earlier, I initially had my doubts about Okafor being an "elite D-1 back," but that was before I found out he had only played football for just two years. After learning that bit of news, I always tempered my statement with "He is just learning the game—he has the raw talent to work his way into becoming and elite D-1 back." I never had any doubt that he could play D-1 ball. It's just that he lacked some of the moves I'd expect to see from an elite caliber D-1 high school prospect–most of whom started playing football as peewees.
   Earlier this week, Yano invited me to be a part of the Redzone team that would attend the Huskers' Spring Game. There was no player that I anticipated more to see play than Collins Okafor—you know I love my Nebraska high school ballers, baby!
   When Okafor entered the game, I was glued to the big screen and the field to watch his every move. After his first couple of attempts, you could see that Okafor was starting to feel comfortable. After he ran wide for about an eight yard gain—I thought to myself, "He is ready to break one at any minute; just keep giving him the ball," Then, boom! I'm looking at the big screen and see Okafor take the hand-off. He makes a beautiful stutter move to create defender hesitation and space. Next, he makes a quick slide-cutback inside and between the defenders. As soon as he splits them, I jumped out of my seat and directed my gaze onto the football field and started cheering him into the endzone! TD!
 11 rushes, 79 yards, 1 TD– Nice!
   Okafor is going to be hard to keep out of the line-up this year. An outstanding academic student, Okafor is very intelligent  and capable of quickly assessing a situation and taking the proper measures to obtain a desired outcome. More importantly, The kid is committed to learning the game and he is dedicated to becoming the best. Keep feeding this big, smart, explosive, redshirt freshman running back the ball and he–will–become an elite D-1 back. The kind of back Husker fans have longed to see for quite some time now.
Related Links:
Redzone Leadership Academy: The Place To Train