Update: Corey Durbin ran a 4.9o 40 yard dash at the Toledo, Ohio BSCN Combine and  took 4th place in the 225 lbs. division at the 2013 state wrestling meet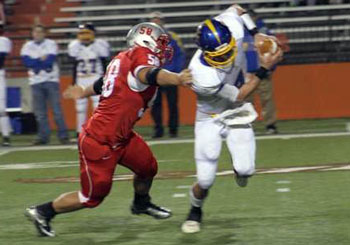 Class of 2014 Football Prospects to Watch: Fremont (Ohio) St. Joseph's Corey Durbin displays the kind of quickness and raw power that college coaches like to see out of a high school defensive tackle prospect.
The 2012 season saw the 6'1" 245 lbs. Durbin record 48 solo tackles, 8 sacks and 17 tackles for a loss on his way to garnering 2012 2nd team All-Ohio honors.  In addition to starring at DT, the multi-talented Durbin was the starting offensive guard and he served as the Streaks' kicker, a role where he earned the Midland Athletic League's 2012 Special Teams Player of the Year Award.
"He almost never came off the field," said Corey's Dad, Jeremy Durbin. And after reviewing just about all of his 2012 junior year game film—this writer can attest to that fact.
Durbin was a big part of a strong season that the St. Joseph Central Catholic Crimson Streaks put together in 2012. St. Joe finished the 2012 campaign with an overall record of 10-2 which concluded with an appearance in the quarterfinals of the Ohio High School Division VI State Football Playoffs.
Playing on the defensive line as a junior was a new experience for Durbin; in his sophomore year he was a starting linebacker for the Streaks. You can definitely see those LB skills and quickness shine through in Durbin's style of play along the line of scrimmage. Outstanding balance is another quality on display when watching Durbin—much of that nice equilibrium, I'm sure, can be attributed to his background as wrestler.  After football season, Durbin slims down to wrestles at 220 lbs where he is currently ranked 5th in the State of Ohio's Division 3.
Off the snap of the ball the explosive St. Joseph DT exhibits the all-important quick first two steps that scouts like to see, while he also manages to maintain a decent pad level and solid hand placement. More importantly for me from my film analysis Corey is one of those high school DTs that you—never—see getting pushed backwards by an opposing blocker—even on a double team. Those aforementioned attributes along with his raw power—he already benches nearly 400 lbs. and squats 520lbs.—makes Corey Durbin a very promising division 1 defensive tackle prospect.  
Ohio University, University of Virginia and Vanderbilt are the FBS programs that have shown interest in Durbin, thus far, according to his father. Several other FCS schools have also expressed interest in Corey, but "Ohio is the only one [school] that actually came to visit him so far," Jeremy said.
At the height of 6'1" or so Durbin is going to appeal to those college head coaches and d-coordinators that value the quick DT with a low center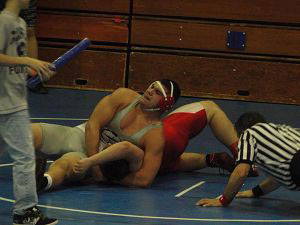 of gravity, which potentially gives them better leverage and control over a taller OC, OG and/or OT.
Jeremy says that a D-1 offer is definitely what Corey is working towards, and they both are making plans for a very busy offseason once the wrestling season ends. Jeremy said, "We will spend a good part of the spring and summer traveling to different camps."
There is no doubt in my mind that Corey Durbin has the raw talent to play Division 1 football, but where he ends up will ultimately be decided by how impressive he shows at those spring and summer football camps and the improvement he makes to his overall game during his senior season. 
I am looking forward to watching the journey.
Preview and video release of the top class of 2014 high school football prospects featuring Fremont, Ohio  St Joseph DT Corey Durbin.
Related Links