Huskers Immediate Future Will Rest on Outcome of Friday's Game Against Colorado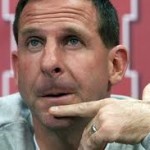 On Sunday morning at 7:17  a.m., I posted an article on myHitNews.com titled "Bo Pelini Looked Like a Nut in Husker loss to Texas A&M." Later that evening, I posted rumors obtained from several inside sources  in regards to Taylor Martinez expressing his intentions to quit the team and that he failed to show up for practice on Sunday. Today, at a press conference, Nebraska head football coach Bo Pelini addressed his conduct during the game and the rumors about Martinez quitting the team.
Bo Pelini Press Conference
Firstly, I thank coach Pelini for taking responsibility for his actions on Saturday and for expressing an apology for his behavior. I also thank the University of Nebraska for moving swiftly on this matter. The rest of what I will say is based on my opinion.
Bo Pelini stated in a Sunday Omaha World-Herald phone interview and again during his press conference that contrary to rumors Taylor Martinez did not quit the team. Sorry, but that is a hard for me to swallow based on the information I've received. It makes it even more difficult to digest when Pelini couldn't provide a believable explanation for why his star player QB Taylor Martinez–who reinjured his ankle the night before–was a no show at practice on Sunday.  And don't forget the fact that this is a short week where the Huskers play on Friday.  Pelini's answers and statements were as scripted and as predictable as a '50's TV sitcom. But Pelini performed admirably. As a result, like after watching a good half hour comedy television show, I came away feeling a little better.
Taylor Martinez
This is not the first time that Martinez has threaten to quit the team: according to sources, during this fall practice's heated QB competition, Martinez allegedly complained to Bo and Shawn Watson about not getting enough reps; therefore, he threatened to quit. Obviously, the young man got their attention and was tapped to be Nebraska's starting QB for their first game.  The aforementioned situations happen all the time on college football teams, but sometimes they come back to bite you. And so it is with Martinez.
Right now Martinez' ability to lead from the QB position is of real concern. Do the players still believe in him after Saturday and those rumors?  And if they have doubts, how can Martinez even prove his leadership through his performance if he is on one leg?
So Where Does This Go from Here?
Though Bo Pelini vowed in his press conference to never again behave the way that he did on Saturday night, he has also been quoted to say—on numerous occasion before–that he would work to control his temper.  At age 43 it's not an easy thing to change your stripes. But now that the public and administrative pressure to live up to his vow is on the line–can he do it?
Bo Pelini is one major blowup from losing everything that he has worked so hard to achieve for himself and his family. If that's not enough incentive then God help him.
A lot is at stake on the outcome of Friday's Colorado game.  A Nebraska victory and a berth to the Big 12 Conference Championship Game will erase a lot of the damage from the Texas A&M fiasco. A  Husker loss to the Buffaloes will certainly reopen those wounds.  
If the Huskers prevail on Friday and again next Saturday—everything that happened at College Station, Texas will be a distant memory.
If nothing else Bo Pelini helps to make life interesting. I hope he comes out on top.
Hot Link Posted 11-24-10:
Heisman Trophy Winner Desmond Howard Responds To Bo Pelini Tirade