Urban Finally Gets D-1A Offer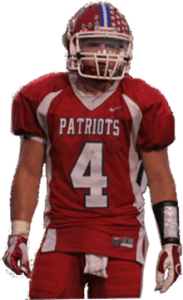 Quentin Urban — the 5-11, 185lbs standout multi-sport-athlete from Millard South hangs up his helmet and football cleats for a bat and glove.
This past December Urban accepted a football scholarship from D-1AA South Dakota. But late last month Darin Erstad, Nebraska's new head baseball coach, offered the stud a scholarship and a chance to make a name for himself on the baseball diamond.  I guess it was slam dunk decision when a man with the professional hardware that Erstad has accumulated over his career ( three-time Gold Glove Award winner and two-time All-Star) wants to make you his first recruit.
Good move by Erstad too, considering Urban is one of the best all-around Nebraska high school athletes to come down the pike: a two-time First Team All-Nebraska football and baseball player and honorable mention All-Metro in basketball.  He will bring a lot of athleticism and a gutsy hardnosed winner's attitude to the ball club.
Even so I'm still saddened by the fact that I won't get to see "Q" do his thing on the football field.
Urban finished his senior year for the Patriots with a .464 batting average, 37 RBIs and 43 runs. He is tentatively slotted to play left or centerfield for NU.
Biggs Edges Closer to the Big Time
Deverell Biggs — the class of 2010 Omaha Central grad was among the nation's top 100 JUCO basketball players to be invited to the prestigious Mullen Top 100 JUCO Showcase Camp held last weekend in St. Louis. Last year 71 out of 100 campers eventually received D-1 scholarships, according to the camp's website.
Biggs also made a move from Western Texas Community College to Seward County Kansas Community College, located in Liberal, KS.
Last season Biggs averaged 14 points per game as a freshman for Western Texas.
Top Nebraska HS Track Stars Prepare For National Junior Olympic Championships
Michelle Wallerstedt, Omaha Burke — the senior-to-be threw 136-1 to take 2nd in the young women discus at the USA Youth Outdoor Track & Field Championships. She also is an automatic qualifier for the for USA Track and Field National Junior Olympic Championships (USATF JO Championships) that will be held in Wichita, Kansas on July 27 thru August 1st at Wichita State University.
LaQue Moen-Davis , Omaha North—earlier this month in St. Paul, MN, the soon to be Texas A&M Aggie qualified for the USATF JO Championships by winning the JO Region 8 young women heptathlon (4359 pts.),  triple jump (38-11.5); 100 HH (14.23) and  a 2nd place finish in the long jump (17-09).
Clara Nichols, Millard South —the Nebraska high school 400 meter state record holder placed 6th (55.45) competing in the young women division 400m at the USA Youth Outdoor Track & Field Championships held in Myrtle Beach, South Carolina. Nichols also qualified for USATF JO Championships by winning the JO Region 8 400m (56.23) and 800m (2:16.94).
Kenzo Cotton, Papillion-La Vista — the first freshman boy to win the state meet 200 meter gold medal qualified for the USATF JO Championships by winning the Region 8 intermediate boys 200m (22.78) and 100m (11.12).
Devin and Dennis Barfield (Omaha Central); Garrett Teel (Lincoln Pius X ) and Cody Rush (Grand Island Northwest) teamed up to win the JO Region 8 young men's 400m relay with a very impressive time of 3:16.65. Dennis Barfield also qualified for the JO Nationals by finishing 4th in the 400m (49.54).
Also qualifying for the USATF JO Championships at the JO Regional:  Nebraska track recruit Christian Sanderfer (Lincoln Southwest) won the young men decathlon (6087 pts), pole vault (15-9) and placed second in the 110 HH (15.04); Brady Rutt (Hastings) won the discus (184-10) and shot put (55-3.50); University of Missouri bound Drew Staskiewicz (Millard North) won the Hammer throw (191-04) and Enrique Alvarez (Bellevue West) won the young men 110m HH (14.84) and 400 IMH (58.40).