Video Release: Below, watch Andrew explode in his senior year highlights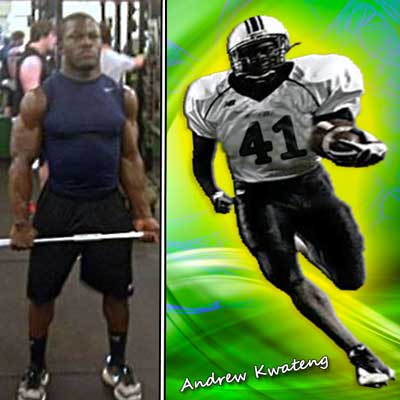 Andrew Kwateng, the explosive little Georgia dynamo that I first watched in awe on film as a sophomore, is finally getting the big boys to notice him, too.
Kwanteng's father, Kwaku, informed me the other day that Andrew received his first D-1A offer from the Air Force Academy, and that the Naval Academy is also in hot pursuit of his boy.
After picking up his first offer this past summer from division 1AA Wolford College, the senior burned the turf for over 1,600 yards on the ground in 2012, averaging 7.56 yards per carry—despite opponents lining up 8 deep in the box to stop the elusive, hard-charging speedster.
It was Andrew's fearless, one-step-cut-and-go, attacking running style that first grabbed my attention when he was a sophomore, leading me to believe that the underclassman had the skills and football savvy necessary to mature into a legitimate D-1A back.
Barely standing 5-foot-7 and weighing merely a buck sixty as a sophomore, Kwateng took no prisoners when he rushed through the middle of the line or when he had to take on a line backer or defensive back.  He always seemed to finish his runs—fighting for that last inch of turf.
A promising start to his high school career—highlighted by his integral role in helping to lead the Roswell Hornets deep into the Georgia Class 5A state playoffs in 2010—was marred by an ankle injury in 2011 which forced him to see limited action. 
The junior year injury and the fact that his football tradition-rich Roswell Hornets went winless in 2011 definitely hurt Andrew's ability to get noticed by division 1 colleges. Accordingly, he knew he needed a good senior campaign to turn heads and bring some paper his way.
Andrew worked hard in the weight room and added another 20 pounds of solid muscle to his frame and he lowered his forty yard dash time by nearly a tenth of a second  from his sophomore year to his senior year, The hard work payed huge dividends, allowing the bigger (180 lbs.) and faster (4.40 40yard dash). senior back to deliver the goods this season—in style.
In 2012 the Hornet's moved up to compete in Georgia high school football division 6A (the state's highest level) where they posted a 3-7 record and missed the state playoffs for a second consecutive season. However, it must be noted that the Hornets, under second year head coach Justin Sanderson, were very competitive in almost every one of their losses this season, finishing strong with a 28-24 win over the 7-4 state-playoff-bound Walton H.S. Perhaps the season finale is a sign that next year the Hornets will be back to their winning ways.
As for Andrew, he has bigger fish to fry: "One of the South's Finest" will be playing division 1 college football next season. But before Andrew makes that decision he will get one more show on the high school gridiron. He was recently invited to participate in a Georgia high school all-star game that will be held at Atlanta's Georgia Dome in mid-December.
Andrew Kwateng is destined to become a highly productive player for any D-1 school for which he decides to attend. And more colleges are sure to come calling before the NCAA National Letter of Intent Signing Day on February 6, 2013.
Andrew Kwateng Senior Season Highlight Video
Related Links
'Andrew Kwateng Reloaded: RB Displays Darren Sproles-Like Explosiveness'
'One of the South's Finest Running Backs: Andrew Kwateng'
Andrew Kwateng Home Page: Stats, Articles Video Pics and more