Nick Mizaur Set To Play In Max Emfinger All-American Bowl Game Classic
The Latest Word
Nebraska High School Football Recruiting News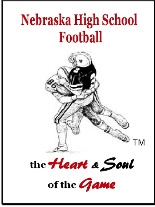 Yusef Wade—The 5-10, 175lb, all-state DB/RB from Lincoln North Star reportedly received a call on Thursday from Nebraska coach Barney Cotton offering him a preferred walk-on opportunity to play for the Huskers.
 "He (Cotton) said they don't know for sure what position I will play. They are looking at me on defense as a DB or they may want me on offense as a back, WR or returns," Wade said.
Iowa State is another D-1A school very much interested in the versatile and athletic football player. Cyclone coach Luke Wells is still in contact with Wade and has recently informed him that they have not reached a final decision. "Iowa State and a couple of other D-1A schools have basically told me that I'm high enough on their boards that if someone de-commits I could get an offer. I have a couple of D-1AA offers right now, but I want to play D-1A. Nebraska is right here in Lincoln and if I can play here as a walk-on then I don't know if I would take a D-1AA offer. It will be a hard decision for me if I don't get a D-1A offer," Wade stated.
Besides Lincoln being his hometown, there is another added incentive for Wade to walk-on at Nebraska: Over the past year, he has developed a friendship with Husker DB P.J. Smith. "I know he wants me to play there (Nebraska) he bugs me about it all the time and talks about how good the coaches and team are. He can help me to learn a lot," Wade said.
Nick Mizaur— Creighton Prep's 6-0, 200 lb, Super-State Second Team RB is enjoying the milder weather of Austin, Texas as he prepares to play, tomorrow(January 9, 2010), in the Sixth Annual Max Emfinger All-American Bowl Game Classic . Approximately 120 of the top seniors from around the country are assembled in Austin to compete in an East vs. West contest; Mizaur will play strong safety for the West team. He has reportedly held up quite well in practice competing against top-notched talent–many of whom have multiple D1-A offers.