Huskers Send Emphatic Message to Rest of the Big 12 and to Nation, "We're Here!"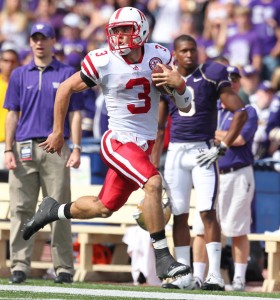 Woo wee! No Kansas State upset here–that was a butt kickin' the Huskers put on my Wildcats. It reminded me of the Husker teams of old that would routinely put a thumping on us when I played. What a game by the young redshirt freshman Taylor Martinez.  He is not as dynamic as the watch-me-make-you-miss Michigan QB Denard Robinson, but Taylor Martinez is the most explosively fast QB I've ever seen play the position.  There is no doubt that this young man catapulted his way into the Heisman Trophy race with another magical performance last night.   
Nebraska has a very talented football team that has the potential to run the table through the regular season.  Yet what happened at Bill Snyder Family Stadium on Thursday night needs to be put into perspective. The Huskers simply looked very impressive against another talent-starved team. Thus far this season, the Huskers have yet to bump heads against a team that possesses a depth of talent  similar to their own, which accounts for the apprehension I have–right now–with proclaiming them to be a legitimate title contender.  I need to see how they fair against teams like Texas, Oklahoma State and Missouri before the Huskers convenience me that they are true national championship contenders.   
Besides, for the Huskers to gain a berth in the 2010 BCS Championship Game–they must finish the regular season unbeaten, and then go on to win the Big 12 Championship against a very good Oklahoma team. That's a whole lot of wood to chop down! If the Huskers can manage to level that mighty forest their reward would be a game against Alabama for all the marbles. Could all that really happen?