Huskers Must Deal with Plenty of Negative Energy Mounted Against Them in 2010
By Will Cummings
myHitNews.com
Karma — in Indian religions the concept of "action" or "deed", understood as that which causes the entire cycle of cause and effect (from wikipedia).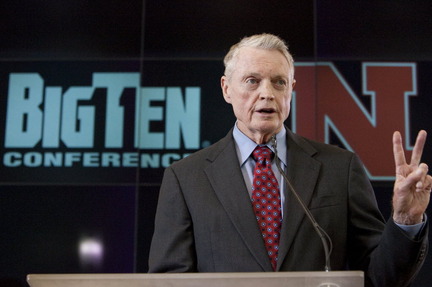 The above is a condensed simplistic definition of a complex religious concept originated by the Indo-Aryan peoples over three thousand years ago. At its core karma is simply a concept found in most religions, whereby a dogmatic framework or rationalization is provided to explain the effects that human actions deeds thoughts, energy, and unseen forces have on the materail world and our souls.
So what does all this religious mumbo jumbo have to do with Husker football? Well, I am going to use my personal bare bones—concept—of a kind  karma to illustrate how numerous actions and deeds as well as forces and energy culminate, over time, to produce various specific outcomes. And to explain why as a result of this karma–the Huskers will not win the 2010 Big 12 Championship.
Oh, and before anyone shouts  "Husker Hater,"  back in May, I originally predicted that the Huskers would win the 2010 Big 12 Championship (click here for article)—but that was well before Dr. Tom Osborne and company decided to jump the leaky Big 12 vessel  for the bounty laden cargo aboard the SS Big Ten. Now everything—most notably the karma–is different.
Osborne's Texas Nightmare
The Huskers' abrupt move to the Big Ten and the subsequent—unexpected–survival of the Big 12 Conference are the significant karma dirt that have changed my mind on NU holding aloft the conference championship trophy in 2010. Ironically, in retrospect, it's the same type of karma that snatched an apparent conference title from the Huskers last season–in Texas–against arch nemesis Texas University.
It's no secret that during the formulation of the Big 12 Conference that, Dr. Tom was not a fan of absorbing so many Texas schools into the former Big 8—especially the Longhorns. Dr. Tom understood recruiting and money and he knew that the State of Texas had an abundance of both.  He understood that it would only be a matter of time before long-dollar Texas and the South Division schools would begin to dominate the conference. It didn't take long for Osborne to face the new reality. The very first Big 12 Championship pitted Nebraska against Texas: The Longhorns won 37-27.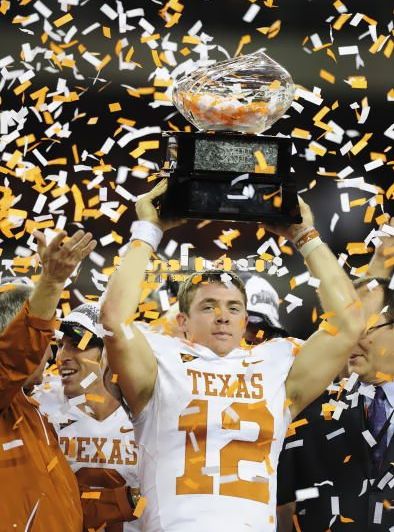 We can only imagine Dr. Tom's thoughts last December as he sat in Arlington, Texas Cowboys Stadium and witnessed those Big 12 officials snatch victory from his Huskers by ADDING ONE MORE SECOND ON THE CLOCK, and the sinking feeling in his gut as he watched Hunter Sullivan's kick sail 46 yards between the uprights and over the crossbar to propel Texas to another Big 12 Championship.

The aftermath—
Less than six months later, Dr. Tom found a way out from the cobbled together, unholly alliance that he always believed-would favor the big-money and talent-rich Texas schools.
…Let my people go…
Exodus 5:  1

In my estimation, Dr. Tom Osborne was–the–behind the scenes driving force and main shaker involved in the Huskers move to the Big Ten. This also should be of no surprise to anyone because the highly polished and renowned silver haired football coaching legend and well-connected former U.S. Congressman possessed all the knowledge, skills and panache necessary to masterfully orchestrate the Huskers move to the Big Ten in quick order.

I oftened wondered why in the scheme of things such a revered and beloved man like Tom Osborne could lose his 2006 bid to become Nebraska's Governor. Well, now I know why: cause and effect—destiny! 

Dr. Tom

had bigger fish to fry.

Shortly after hanging up his coaching gear in 1997, Osborne hit the political circuit. And by the time the Nebraska 2006 gubernatorial campaign rolled around Osborne was already a seasoned  twice-elected Nebraska U.S. House Representative. Most political analyst and the media thought that the Nebraska football legend would win the Governorship hands down. Instead Osborne lost 49% to 44% in the primaries to incumbent

Governor Dave Heineman

.

If Tom Osborne would have won that 2006 gubernatorial primary race he would have gone on to win the general election–he would still be governor of Nebraska right now. Fortunately for Husker football fans–at the most critical point in Nebraska University's Athletic Department history–Dr.Tom Osborne was available to become the new Director of the Athletic Department. The type of athletic director that could formulate and execute a plan to quickly bring the Big House back into order.

There would be no Bo Pelini,Carl Pelini, All-World DT Ndamukong Suh and Nebraska would not be headed to the Big Ten if Dr. Tom was not at the helm of the athletic department.

Reliving that history may lead many to think: "In the grand scheme of things all of these events point in favor for of a Husker Big 12 title in their last year of conference play. After all it's Osborne's fortune—his pay back for last season. It's his destiny to leave the Big 12 in the same glory that he left his coaching career in 1997–as champions!"
Fairy Tale Ending: A Nebraska 2010 Big 12 Championship
A Husker Big 12 Championship could indeed become reality in December 2010.
Perhaps all the related actions, deeds, forces and energy will culminate into a NU  Big 12 title and BCS Championship. And Nebraska's triumphant entrance into the Big Ten Conference as the reigning National Champs. That would indeed reafirm the brilliance of perhaps the greatest college football intellect of our times—Dr. Tom Osborne.

It's a nice fariy tale ending for Nebraska Cornhusker fans–but don't count on it happening. And here are 3 reasons why I think the karma is all wrong for a Husker Big 12 football Championship in 2010:
Karma
3 Reasons Why
Huskers Will Not Win Big 12 Championship in 2010

1.

Despite the early prognostication of its demise, the Big 12 survives without Nebraska and Colorado. This is good for the Big 12 but very bad karma for the Huskers.

Nobody that's part of a group likes a traitor or turncoat. And despite their public posture you can bet your last dollar that the coaches, players, administrators and fans of the ten teams that remain all want ship-jumping Husker blood this year–They ain't leaving here with a title! Behind close doors, clinched-jawed guys are ferociously pounding fist to palm and vehemently muttering:

"Them no good @#*##  corncob eating cowards couldn't hang with our top dogs; they picked up their marbles and ran for more money. Them #&@# almost destroyed this conference in the process–They ain't leaving here with a title!"

2

.
Ditto the above for Big 12 Conference administrators and officials. They do not want Nebraska to abandon the conference as the reigning Champions in 2010, along with a chance to represent it in the BCS National Championship game. A Husker 2010 conference title would be a huge PR nightmare for the Big 12 administration.

3.

The Huskers definitely have enough horses to bring home the Big 12 title in 2010 BUT: The intense pressure of regaining the national spotlight and being the hunted and not the hunter, and the righteous karma and energy and forces lined up against them as noted in 1 and 2 above will be too much for the coaches players and even the brilliance of AD Dr. Tom Osborne to overcome in 2010.
If my gut feelings prove to be wrong and the Huskers are able to overcome the enormous amount of–justifiable-negative energy that will be directed against them this season, and they manage to win the Big 12 title and garner a BCS Championship berth–then the Husker faithful should immediately begin plans to erect a state monument grand enough to honor the greatness of Tom Osborne.
I would certainly be willing to contribute to the effort.