Lincoln North Star's Dillon Schrodt Proves to Be the Real Deal
By Will Cummings
myHitNews.com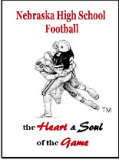 On Nov 1, 2009, myHitNews.com will release its Class of 2010 End-of-Season Top 25 Nebraska High School Football Prospect rankings. Expect to see a little shake up in the top ten positions and some new entries into the Top 25 like Lincoln North Star, WR, Dillon Schrodt.
   Schrodt's omission from our current Top 25 rankings—was definitely not because we didn't know about him (see article here)– it was more the result of not being certain whether the 6-9 high jumper was a true football player or just a track and field phenom. Well, we found out this season that the young man is both. In fact, standing 6-foot-4 and possessing 4.5 speed and good hands–he may be the best WR prospect in the state.
   It's hard to believe that the end of the high school football season is drawing near. However, for many football prospects in the Nebraska high school football Class of 2010, the fun is just beginning. November until February marks the end of the recruiting cycle for this class. During this period, college coaches will be busy reviewing prospects' film and calling and visiting homes and schools in an effort to finalize their recruiting classes.
There are still one to three D-1 offers lurking out there, and more than a half-dozen or so D-1AA scholarships, and well over a couple-of-dozen D-II opportunities. Are you ready?
FOOTBALL

 HIGHLIGHT VIDEO SALE
5 Game Special W/Music & Free You Tube Upload

$149.00

Send us film of your best five games and let us do the rest. 

See details here

www.hithighlights.com
Sale Ends Nov 1, 2009