North stares at meat of schedule full of playoff implications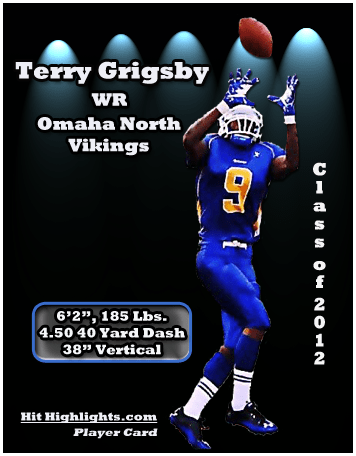 Busting out the gate hard in 2011, Omaha North WR Terry Grigsby has racked up some striking stats for the Vikings: unofficially, through the first three games of the season, Grigsby is averaging 22.5 yards per catch on 20 receptions good for 450 yards (150 per game) and 6 TDs.
By maintaining this rate of productivity, the 6'2" 185 lbs receiver will easily eclipse the 1,000 yard mark for receptions on the season. And there is no telling how many more TDs he could hang on his stats by the end of the year. However, projections are one thing and actual results are another, especially now that Grigsby has a target on his back.
Every team left on Vikings head coach Larry Martin's schedule will be geared to stop Terry Grigsby.
So far, the 1W-2L North squad has faced two Top Ten teams in No.3 Millard West and No.6 Omaha Central.  Against a very good Millard West defense Viking QB Zach Martin was able to find Grigsby 8 times for 160 and 2TD.
The Vikings Martin-Grigsby hookup was not as effective in their second game against Central. The Eagles were able to limit Grigsby to 3 catches but they still couldn't keep him out of the end zone.
Last week the Vikings bumped heads with an improving Omaha South football program where the Martin-Grigsby connection was back on track, producing 9 for 158 and 3TDs. In fact – Martin was on fire last Friday, hitting 17-18 passes for 262 yards.

Viking playoff hopes on the line


To make the 2011 playoffs Martin and Grigsby will need to maintain the proficiency they enjoyed last week as they move into the make-or- break-a-season part of their schedule.
The Vikings will likely even up their win-loss record this week with a victory against Omaha Northwest; however, playoff implications will be on the line starting next week when they meet Omaha Westside.
The Westside game is a huge one for North, because if they lose here the window shade on their view to postseason play begins to come down. I mean, at midseason, there is a big difference in attitude and hope on a team when they're sitting at 3-2 vs. looking up at 2-3 – especially when your next game is against the No.1 team in the state.
If the Vikings slip by the Warriors a 3-2 North team will face its toughest test of the season when they lineup to battle their arch-foe No. 1 Omaha Burke.
If the Vikings enter the Burke game at 3-2, this could be a very compelling contest. It's the kind of matchup that high school football fans can look forward to seeing: a lot of talent, speed and two well-coached near-neighboring OPS high school football programs – that don't exactly like one another – featuring Martin-Grigsby on one side and on the other, the Bulldogs Triple-Threat Gang of Zach Cook, Jordan Nelson and Carson Collins.
The Vikings will first need to take care of Northwest and then Westside before they begin entertaining the thought of taking down the No.1 team in the state.
Of course, I'm not letting that stop me.