Iowa Hawykeyes Take Early look at Urban
New Quentin Urban Junior Year Highlight Video
By Will Cummings
myHitNews.com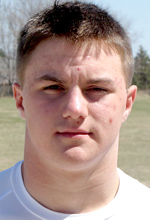 Class of 2011 football prospect Quentin Urban is steadily drawing the eyes of D1-A coaches in this region towards him. But according to his father, Tony Urban, it is the University of Iowa that seems to be showing the most interest right now. In fact Quentin recently visited the Hawkeye campus this past weekend.
"They [Iowa] seem to be showing a lot of interest in him but no offers, yet. I know Quentin really enjoyed his visit and really hit it off with their defensive coordinator," Tony said.
   The 5-foot-11, 190lb junior was a key contributor to the success of Millard South's 13-0 2009 season and Class A State Championship: Counting rushing, receiving, interception and fumble returns, and kick returns, Urban amassed a total of 22 touchdowns in '09; averaged 11.3 yards per carry; 13.1 yards per catch and led his team in tackles with 94. As a result of his performance, Urban garnered Lincoln Journal Star Super State First Team and Omaha World-Herald All-Nebraska First Team honors at LB.
   In addition to being an outstanding football player, Urban is also a very good basketball player—currently averaging 13 points and 3.5 assist for the Patriots–and a very good pitcher and outfielder for Millard South's baseball team.
Quentin Urban on Film
   On film, Urban ranks high on my list of the best all-around Nebraska high school football players I've seen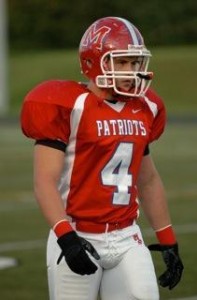 over the past few years: He demonstrates excellent balance, body control and a very high football IQ—meaning he has a great feel for the game. Urban definitely has an instinctive feel for space, distance, and time and he has the skill-set to instantaneously use all three to his advantage. Urban is a playmaker deluxe who can do it all on both sides of the ball and on special teams.
In my opinion, the one thing that separates Urban from most good Nebraska high school football players I've seen is his fluidity–Urban seems to move through space effortlessly. 
Quentin Urban Up Close
   I have not had the pleasure of meeting Quentin, but I have spoken to someone who has. Redzone Leadership Academy founder Yano Jones began working with Urban this past summer in some one-on-one training sessions and as a member of his Redzone group.  Yano says that Quentin still manages to sneak in a training session or two at Redzone despite his hectic school and sports schedules.
   "Quentin is a very quick and thickly-built player who has excellent footwork and body control– he is an aggressive competitive athlete. I'm excited about working with him. As good as he is now, he is one of those athletes that you can sense has a lot more room at the top.
   I saw him play basketball; he can contort his body in all kind of ways, I know he hit 30 points in one game. I know that when I see a football player who can play basketball like that—I know he can be something special on the field. I just wish I had more time to work with him but he plays basketball and baseball too," Yano said.
 Yano also went on to express his gratitude for Millard South head coach Andy Means who over the years has allowed many of his players to train at Redzone: 
"A lot of coaches are real protective of their players and discourage them from doing anything outside their programs, but Coach Means understands what I do and has even thanked me for my work in the community and for what I have done for some of his kids. It's all about trying to prepare them for the next level [college] and in the process they become even better athletes for their high school teams."
Urban's Hurdles
   Quentin Urban will have to jump three hurdles that have curtailed the dream of many Nebraska high school football prospects that sought D-1A football scholarships. Even though some schools realize his potential as an offensive player most programs are looking at Urban to play on defense as a safety, With that in mind, here are the hurdles he will have to overcome: 
1. He plays high school ball in Nebraska–not a recruiting hotbed.
2. Height–listed 5-11, he is a little shy of ideal 6-1 to 6-3 height range for a D-1A college safety–but the good news is that you can find many 5-10 and 5-11 safeties starting or contributing for D-1A programs.
3. Speed–Listed at 4.59 in the 40,  Urban looks at least that fast on film. And at his current listed speed–along with his quickness and high football IQ–he can play the position effectively at the D-1A level. However, the problem with that is he will be competing against prospects from around the country who are faster or who are just as fast but are 6-foot-2.
   Urban can't do anything about the first two hurdles, but he still has plenty of time to shave some tenths off his forty time. He already has a very nice 4.03 short shuttle time and a very strong 35″ vertical, so he possess the explosiveness to run a much faster forty–he just needs to learn how.
  If Urban stays healthy, improves upon his speed, and performs well at camps he will have a good shot at a D-1A scholarship. Of course, there is always the possibility that some school could pull the trigger on him before camp time. He shows that much potential–right now.
Below check out Quentin Urban's new junior season highlight video:
httpv://www.youtube.com/watch?v=cXHnxGurN34