Cotton Adds Mizaur to the List of Nebraskans Offerred Preferred Walk-ons for 2010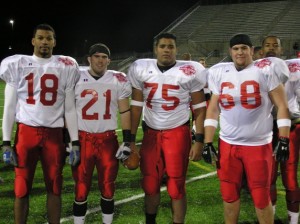 Nick Mizaur had a BIG week down in Austin, Texas: On Saturday, the 6-foot, 200 pound, Creighton Prep senior strong safety grabbed a 2ndquarter pick, on a scoring drive deep inside his team's territory, and raced 71 yards downfield to the 10 yard line to help spark his West squad to a 27-13 victory over the East in the Max Emfinger All-American Bowl Game Classic. And on the Thursday before the game, Nebraska coach Barney Cotton called Mizaur to offer him a preferred walk-on.
   This past Friday, I sent an email to Mizaur's dad, Nick Mizaur Sr., inquiring about how his son was holding up in practice. Mizaur Sr., who accompanied his son down to Austin, said that Nick was performing well. "He had a great practice the other day. He batted down two passes and had one heck of an interception.
   Nick's dad also went on to mention that there was a lot of talent there in Austin, "Many of these players have multiple D-1-A offers," he said. But for me his most profound statement was the observation he made in regards to Nebraska high school players and the all-star talent he saw all week long down in Texas:
"We have kids in Nebraska I believe are just as talented as some players I see here."

Nick Mizaur Sr.
   My reply to his email: "You're just seeing firsthand what I've been saying all along about Nebraska high school football players. That's why Nebraska gets so many quality walk-ons. They (D-1 colleges) all go to Texas, Florida and California first."
   I believe that Nick Mizaur just happens to be one of those quality athletes that possesses the type of God-given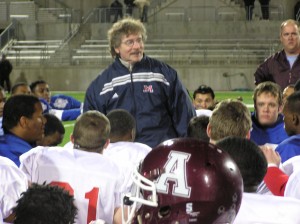 ability that if he had lived and played high school football in one of the recruiting hotbed states–his game would would have risen to the level of those surrounding him and he too would have some D-1A offers right now.
   Nick Mizaur certainly rose to the occasion this past weekend in Austin, Texas.
   No rest for the weary!  Mizaur will head  back to work on the wrestling mat this week to continue his hunt for a 2010 Class A state wrestling title–a title he may have claimed last season if it were not for the disqualificton he received in the state tournament semi-final match for an illegal takedown.
Better Luck This Time Nick!