Take the Poll at the end of this article to vote for the team with the best chance: Nebraska or Iowa
?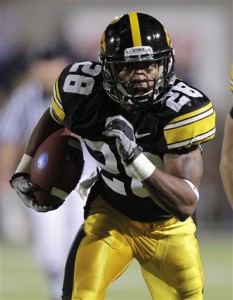 Spring football is in the books for the Huskers and Hawkeyes. So what did we learn from the experience about both teams' chances next fall?

From where I sit the answer is pretty much the same as before spring practice began: Nebraska has a lot of unanswered questions on offense and Iowa's has a lot of holes to fill on defense.

Taking a look at Nebraska and Iowa's 2011 football schedules, Iowa stands a much better chance than Nebraska to finish with a record good enough to win their division. Of course that is by no means a given. But when I look at Nebraska's monstrous 2011 Big Ten schedule I can't help but say "damn!" Pardon the language but…

Pictured at left: Iowa Hawkeyes First Team All-Big Ten DB #28 Shaun Prater (Omaha Central Class of 2008). Prater is listed as a 2011 preseason All-American DB by various sports publications.

Nebraska Cornhuskers

2011

Football Schedule




Iowa Hawkeyes 2011 Football Schedule

Date
Opponent


Red = Home




(

2010 reccord)
Location
MHN Pick


W (Win)




L (Loss)




? (undecided)

Date
Opponent


Gold = Home




(2010 record)

Location

MHN Pick


W (Win)
L (Loss)
? (undecided)
Sat, Sep 03
Tennessee at Chattanooga
(6-5)
Lincoln, NE
W
Sat, Sep 03
Tennessee Tech
(5-6)
Iowa City, IA
W
Sat, Sep 10
Fresno State
(8-5)
Lincoln, NE
W
Sat, Sep 10

Iowa State




(5-7)

Ames, IA
W
Sat, Sep 17
Washington
Lincoln, NE
?
Sat, Sep 17
Pittsburgh
(8-5)
Iowa City, IA
?
Sat, Sep 24

Wyoming




(3-9)

Laramie, Wyo
W
Sat, Sep 24
Louisiana-Monroe
(5-7)
Iowa City, IA
W
Sat Oct 01

Wisconsin




(11-2)

Madison, Wis
?
Break
Oct 01
Sat, Oct 08
Ohio State
(12-1)
Lincoln, NE
?
Sat, Oct 08
Penn State
(7-6)
University Park, PA
?
Break
Oct 15
Sat, Oct 15
Northwestern
(7-6)
Iowa City, IA
?
Sat, Oct 22
Minnesota
(3-9)
Minneapolis, Minn
W
Sat, Oct 22
Indiana
(5-7)
Iowa City, IA
W
Sat, Oct 29
Michigan State
(11-2)
Lincoln, NE
?
Sat, Oct 29

Minnesota




(3-9)

Minneapolis, MN
W
Sat, Nov 05
Northwestern
(7-6)
Lincoln, NE
?
Sat, Nov 05
Michigan
(7-6)
Iowa City, IA
?
Sat, Nov 12
Penn State
(7-6)
University Park, Pa
?
Sat, Nov 12
Michigan State
(11-2)
Iowa City, IA
?
Sat, Nov 19
Michigan
(7-6)
College Station, TX
?
Sat, Nov 19

Purdue




(4-8)

Lafayette, IN
W
Fri, Nov 25
Iowa
(8-5)
Lincoln, NE
?
Fri, Nov 25
Nebraska
(10-4)
Lincoln, NE
?
Sat, Dec 03
Big Ten Championship
Game
Lucas Oil Stadium Indianapolis, IN
Will they be here?
Sat, Dec 03
Big Ten Championship
Game
Lucas Oil Stadium Indianapolis, IN
Will they be here?
The Nebraska Cornhuskers 2011 Big Ten Conference football schedule from hell opens with a road trip to play last year's co-Big Ten champion Wisconsin followed the next weekend by a game at home against another 2010 conference co-champ Ohio State.

The jokers who made this schedule obviously figured that they needed to cut the Huskers some slack so they penciled in an open date after the Buckeye game and a date with lowly Minnesota the following week. The lull will be a much needed respite as it comes just before they face their next big time opponent Michigan State—the last of the three 2010 Co-Big Ten Champions.

The brutal Husker schedule does not let up! After the Michigan State game, all of Nebraska's remaining conference opponents posted winning records in 2010. In fact only 2 of the teams the Huskers will face next fall had losing records last season (non-conference foe Wyoming and Minnesota). Hello!
The New Big Ten Conference Divisional Alignments



Leaders Division

Legends Division


Illinois, Indiana, Ohio State, Penn State, Purdue and Wisconsin

Iowa, Michigan, Michigan State, Minnesota, Nebraska and Northwestern

Each school will play the other five schools within its division and will also face three teams from the other division, including one cross-division matchup guaranteed on an annual basis. The guaranteed cross-division matchups are Illinois-Northwestern, Indiana-Michigan State, Ohio State-Michigan, Penn State-Nebraska, Purdue-Iowa and Wisconsin-Minnesota.

Each year the respective divisional winners will meet in the Big Ten Championship Game to decide the conference champion. The first Big Ten Championship Game will be played December 3, 2011, at Lucas Oil Stadium in Indianapolis.
On the other side of the ledger—the good ol' Hawkeyes' schedule is not so tough: Out of the 12 opponents Iowa faces this season 5 had losing records in 2010. Moreover, Iowa  will face only 1 of the 3 2010 Co-Big Ten champions (Michigan State). Factor in that Iowa has been in the Big Ten since—forever—and they know their opponents inside out, while Nebraska is the new kid on the block that will have to learn, on the fly, all the intricacies of their conference foes.  Easier schedule and they know their foes well are the reasons why I have to give a nod towards the odds of Iowa posting a better overall record in 2011.
But wait a minute: If everything goes right for the Huskers, meaning they are able to find the right answers for all the questions they have on offense, they will have a much better shot than Iowa of winning the conference outright. Here is why: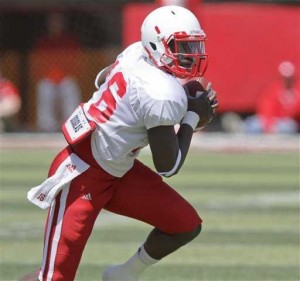 The Huskers defense will again be stellar, and if they get that young talent on offense to click they can beat anybody. That's the big "IF".

My 3 Biggest Concerns for 2011 Nebraska Cornhuskers Football

1.       The O-line—a lot of coaching-up will have to happen if this group is to succeed in bumping heads against their Big Ten foes. Only two consistent starters return along with several players that have logged significant game time. The Huskers have some good young talent here, but still it's not real deep and has limited playing experience.

2.       QB—if it were not for the fact that the game of football is won or lost—first— in the trenches this would be the No. 1 concern Nebraska faces in 2011. I'm still not sold on

Taylor Martinez

—he is still not 100% healthy plus too many issues there. But I do like what I saw out of redshirt freshman

Brion Carnes

in the Spring Game. He's an elusive runner and even better—he has the kind of big arm to get it done against the best. He is not game tested so we don't know what we could ultimately get, but my gut says it would be good. On that matter

Cody Green

 is tested and I'd take him over anything less than 100% healthy Martinez.

3.       Stay healthy

Rex Burkhead

and may incoming Rivals 5 star freshmen RB

Aaron Green

 be all that. The Huskers have several other players that could produce some buzz on offense like true freshman

Jamal Turner

(already on campus and making big plays in Spring Game) and a speedy walk-on named

Ty Kildow

(Millard South) and a couple of more hot incoming freshmen. But get my drift: TOO MANY UNKNOWNS!  However, if the line can't block what does it matter.

Nebraska Cornhuskers 2011 Preseason Summary:

Today, the Husker defense is the strength of this team and they should remain among the nation's very best in 2011. Remember they  lost all-world DT

Ndamukong Suh

 the year before and did fine last year. This past season they lost All-American lock-down corner and likely NFL first round draft pick

Prince Amukamara

. and just like with Suh's departure the Huskers will recover.  If the Huskers can find the right answers to their questions on offense they will be rewarded with a December 3 date to face the Leaders Division champion at the

Lucas Oil Stadium

 in Indianapolis. If the offensive answers are not found— the Huskers could easily end up with 5 losses or more.

My 3 Biggest Concerns for 2011 Iowa Hawkeyes Football

1.       Defense—my, talk about wiping the cupboards clean!  Gone are: First Team All-Big Ten players

Adrian Clayborn

(DE) and

Tyler Sash

 (SF); Second-Team All-Big Ten selectees

Brett Greenwood

(SF)

Karl Klug

(DE) and

Jeremiha Hunter

(LB) plus honorable mention All-Big Ten DT

Christian Ballard

.  Fortunately all is not lost: the Hawkeyes return two of the best DB's in the conference with First Team All-Big Ten player

Shaun Prater

(Omaha Central) and

Micah Hyde

, who earned honorable mention all-Big Ten.
It's going to take a yeoman effort from the highly touted Iowa coaching staff to fill all the holes left behind here. But if any coaching staff in the county is capable of the task it's this bunch!

2.       QB —Gone is three-year starter

Ricky Stanzi

, a projected 3rd or 4th round NFL pick. Stanzi steadily improved his game each year and his leadership and his experience will be missed. Likely to fill Stanzi's shoes is

James Vandenberg.

 Two seasons ago, against Ohio State, Vandenberg started for an injured Stanzi and he almost led the Hawkeyes to an overtime win in Columbus If "Vandy" is unable to fulfill the promise, looking to step in is a very talented 6-foot-five, 230 pound redshirt freshman named

A.J. Derby

 this kid is simply too good of an athlete to sit the bench, therefore, if Vandy is the man look for the Hawks to find another spot where Derby can contribute.
The good news for Iowa's starting QB is that he will have a very good offensive line in front of him. The O-line returns almost entirely intact from last season.

3.       Receivers— Proven WRs

Marvin McNutt

(2nd Team All-Big Ten) and

Keenan Davis

 return, however McNutt underwent shoulder surgery this past winter and did not participate in spring ball. Depth will be a major concern here. More weapons will need to emerge.

Iowa Hawkeyes 2011 Preseason Summary

On offense Iowa will have the luxury of fielding a veteran O-line to go along with at least one very good game-tested back in sophomore

Marcus Coker

.  The Hawkeyes may also see the return of RB

Adam Robinson

 to the team. If their QB can just manage the game (not turn the ball over) they will be OK—but just OK. Because the Hawks' depleted defensive unit is likely to give up more points in 2011 than they are accustomed to allow. Therefore, the offense is going to have to be capable of putting up points on the board. Vandenberg or Derby or whoever it is that runs this ship will have to be more than just a game manger—he will need to be a playmaker for the Hawkeyes to have any chance of making the big dance on December 3rd.

Iowa vs. Nebraska Head-to-Head in 2011: My Pick for "Farmageddon 1"

I'm laying my cards on the table: I have four favorite college football teams: Ohio State, Kansas State, Nebraska and Iowa. K-State isn't in this conversation and Ohio State head coach

Jim Tressel

did some very naughty things, which makes it impossible for me to root for them this year (Yep that means I will be rooting against my hometown Buckeyes when they face Nebraska inside Lincoln Nebraska's Memorial Stadium on October 8). So the preceding leaves me with Nebraska or Iowa to root for to win the 2011 Big Ten Championship.

Since I'm pulling for either team to win the Big Ten this year, the team I will root for on November 25th is the team that has the chance to go to the Big Ten Championship Game.

If both Nebraska and Iowa have an equal chance to win the Legends Division that day, I like underdogs, so I will root for Iowa.

The worst case scenario is that both teams are out of the hunt by the end of the season. If this occurs I will just be rooting for a good game.  Unfortunately, right now, that worse case looks like a strong possibility unless both teams find the right answers to those questions.

What do you think?
[poll id="31″]
Related Link