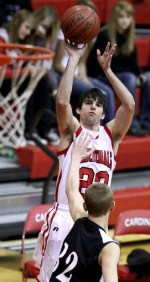 North Platte's Trey Moore leads Class A scoring at 20.7 ppg. Mike Gesell–the South Sioux City all-star–is pumping it in at a blistering pace of 27.3 per game, but his teammate Austin Groth is right on his heels averaging 23.5 ppg. So far this season, the South Sioux City dynamic duo have combine for an amazing 51 points per game! When is the last time that happened? 
Are we looking at the best Nebraska high school backcourt of all time?
A pretty good pitcher on the baseball mound, Groth has also found a home on the hardwood –a  very hot prospect with a bullet!!!
There will be some major moves in the MHN Midseason Top 25 Nebraska H.S. Basketball Prospects ranking that will be released on January 24th.
To see how the rest of the leaders in Class A & B stack up click link: Omaha World-Herald Boys Basketball Leaders, January 21