Hasting St Cecilia Catholic's Big Zach Sterup Leads Class of 2011 Prospects With 5 D-1 Offers–and Counting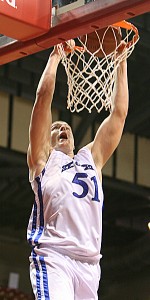 By Will Cummings
MyHitNews.com
 
   Don't blink too long: the 2010 high school football season is fast approaching, With the wrap up of college spring ball, college coaches will be begin focusing on rounding out their class of 2011 recruits. 
   The month of May marks the beginning of a month long period that the NCAA has set aside to allow college coaches to visit high school campuses to evaluate the talent pool.  The NCAA prohibits the coaches from actually communicating with the athletes (except they can acknowledge them by saying hello) but they can speak to their coaches, watch them participate in practices and review their transcripts.
 
   The 2011 Nebraska high school class is shaping up to be one of the better classes in recent memory. Already there are four Nebraska high school football prospects that hold at least one D-1A offer. Zach Sterup, a 6-foot-9, 265lb athlete out of Hasting St Cecilia Catholic leads the pack with five D-1 offers. Sterup is also a very talented basketball player and is receiving a lot of attention from college coaches in that sport as well. The other Nebraska prospects holding D-1A offers are Ryne Reeves, OL, 6-3, 285, Crete; Cole Fisher, LB, 6-3, 212, Millard North and Ted Lampkin, ATH, 5-7, 160, Omaha Central (see the MHN Class of 2011 Nebraska High School Football Prospect Board below to view offers). 
   There are number of athletes that look to be next in line to get a D-1 offer or two:  Below, check out the reported measurables on Beatrice's Daniel Davie—nasty! Davie currently holds an offer from D-1AA North Dakota State. His 4.40 40 time and 38″ vertical will be hard for recruiters to ignore. Omaha Burke LB Nate Kroupa is another prospect boasting impressive numbers and he looks good on film too. Millard South's All-Nebraska LB/RB Quentin Urban may not have lip-licking measurables but there is no doubt that he is a very talented athlete—which includes basketball and baseball—and the playmaker delivers the goods on the football field. Ryan Randall put up some freaky rushing numbers last year for Blair–2,000 plus; Lincoln Southeast's Derrius Vick holds a D-1 offer in basketball and the explosive and shifty ATH will be in the hunt to add one in football.  
   The above are just a few of the possibilities to watch out for in the next few months. Of course–like always– someone will pop out of seemingly nowhere to snatch a D-1 offer.  And that is why the next few months of the recruiting cycle will be so important for prospects to make an impression.  
Get ready for your camps this spring and summer and be prepared to deliver your best in the fall! 
Got a propsect? Send info to myhitnews@yahoo.com.
Class of 2011
Nebraska High School Football
Prospect Board
OFFENSE
 

Name
School

POS

HT, WT
Bench, Squat;
40 yd
Shuttle
Vertical
ESPN
Score
Rivals
Rank
 

Linemen

Ryne Reeves




Crete





Offer: Nebraska;

 

 

Commitment: Nebraska 

 

 First Team Super-State


OL




6-3, 285
340, 420
5.2
5.00
27″



ESPN's
Top
150
Watch
List

NA

Aaron Frey
Pius X




1st Team All-City

OL

6-3, 215
NR
NR
NR
NR


NA

NA

Zach Sterup
Hastings St Cecilia

 

 

 

 

Offer: Iowa University, Kansas, Kansas State, Ohio, Wisonsin

 

All- Nebraska

2nd Team

OL

6-9, 265
NR
NR
NR
NR

NA

NA

Running Backs/ Fullbacks

Tre' Sacks
Millard South




Second Team All-Metro




RB

5-5, 185

NA

NA

Cleo Miller
Omaha Benson

 

2nd Team All-Metro





RB

5-9, 160
NR
NR
NR
NR

NA

NA

Ryan Randall
Blair




2nd Team All-Nebraska

1st Team All-Omaha Area



Junior Year



RB

6-1, 190
NR
NR
NR
NR

NA

NA

Richard Wynne Jr.
Creighton Prep

RB/CB

5-7, 162
260, 335
5.05
NR
31″NR
NR
NR                   

 

  

NA

NA

Quarterbacks

Jimmie Forsythe
Omaha Burke


2nd Team All-Nebraska
First Team All-Metro


Sophomore Year



QB





5-11, 175
235, 360
NR
NR
30″

NA

NA

 

 

 

 

 

Wide Receivers/Tight Ends

Galen Gullie
Omaha Bryan




Second Team All-Metro

WR

5-9, 175
NR
NR
NR
NR

NA

NA

Ted lampkin
Omaha Central

 

 

Offer: Iowa State, Kansas State

 

Second Team All-Metro

WR

5-7, 159
NR
4.37
4.42
35″

NA

NA

Athletes

Derrius Vick
Lincoln Southeast




1st Team All-City




ATH

6-2, 180
230,NR
4.6
NR
31″



NA

NA

Bryce Bostwick
Lincoln East





1st Team All-City

ATH

5-11,175
NR
NR
NR
NR

NA

NA

Quentin Urban
Millard South


First Team Super-State
First Team All-Nebraska
Junior Year




ATH

5-11, 185
250, 355
4.59
4.03
35″

NA

NA

James Muhammad
Lincoln North Star

Junior Year




ATH

5-8, 150
NR
NR
NR
NR

NA

NA
Class of 2011
Nebraska High School Football
Prospect Board 

 DEFENSE
 

Name
School

POS

HT, WT
Bench, Squat
40 yd
Shuttle
Vertical
ESPN
Score
Rivals
Rank
 

Linemen

Brandon Yost
Millard West




First Team All-Mertro

DL

6-1, 250
NR
NR
NR
NR



NA

NA

Lucas Mickels
Creighton Prep

DL

6-0, 283
NR

NA

NA

Ryan Wheeler
Millard North

DE

6-4, 244
(295, 405)
4.93
4.28
26″

NA

Invited to U.S. Army National Combine



NA

Eddie Ridder
Mount Michael


DE

6-6, 212
NR
NR
NR
31″

NA

NA

Linebackers
Cole Fisher
Millard North



Offer: Iowa University, Kansas

 

 

 

 

 First Team Super-State


LB

6-3, 185
250, 380
4.62
NR
NR
 NA





 






NA

Broderick Boehm
Lincoln Southeast




1st Team All-City

LB

5-11, 195
270, 390
NR
NR
NR

NA

NA

Nate Kroupa
Omaha Burke





 

LB

5-11, 215
305, 510
4.7
4.4
31″

NA

NA

Gus Petersen
Cambreidge 2009 Class C2 1st Team All-State


LB

6-2, 195
275, 400
NR

NA

NA

Drew Ott
Giltner

LB

6-3, 217
245, 360
4.85
NA
36″

NA

NA

Josh Swanson
Gerining

LB

6-0, 197
NR

NA

NA

Antony Ridder
West Point Central Cath.

LB

6-2, 195
250, NR
4.7
NR
26

NA

NA

Brock Sherman
Crete

LB

6-0, 203
300, 420
4.6
4.4
30″

NA

NA

Joshua Martin
Plattsmouth

LB

5-9, 155

NA

NA

Defensive Backs

Austin Tompkins
Lincoln Southwest




1st Team All-City

DB

6-1, 175
NR
NR
NR
NR




NA

NA

Zach Leinbaugh
Millard West




First Team All-Metro




DB/ K

5-8,175
NR
NR
NR
NR


NA

NA

Cole Spurgeon
Gretna




1st Team All-Omaha Area

DB

6-3, 195
NR
NR
NR
NR




NA

NA

Daniel Davie
Beatrice


North Dakota State

S

6-0, 181
250, 335
4.4
4.24
38″

NA

Invited to U.S. Army National Combine

NA

Will Sailors
Lincoln Northeast

DE

6-4, 244
350, 385
5.2
4.72
30″

NA






Invited to U.S. Army National Combine

NA

Trias Bolton
Omaha Westside

DB

5-11, 170
NR
4.55
NR
NR

NA

NA

Kickers/Punters

Tyson Broekemeir
Arurora



First Team Super-State






P

6-0, 165
NA
NA
NA
NA

NA

NA

Tanner Jones
Hastings

K

5-10, 170
NR




NA

NA