Bronson Marsh Commits To UNO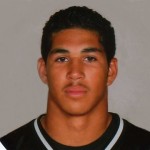 By Will Cummings
myHitNews.com 

   Lincoln North Star football prospect Yusef Wade walks away from D-1AA North Dakota offer and numerous potential offers from D-2 schools to walk-on to NU.
   Yusef's father, Otha Wade, informed me that Yusef told Nebraska coaches gathered at the Husker's walk-on introduction program, held this evening (January 24th) on the NU campus, that he would accept their preferred walk-on.

   "Yusef has always wanted to play division one football. The North Dakota offer gave him a little pause and he really liked his visit up there but he couldn't turn down an opportunity to play D-1 ball. That has always been his number one goal throughout this process. He was so dead set to play D-1 ball that he refused to accept or return calls from all the D-2 schools that wanted him to take visits," Otha said.
   Otha Wade also said that there were about 15-18 players at the gathering but one of the NU officials told him that they were only going to take closer to 10 walk-ons this year, considerably down in number from the nearly 30 walk-ons in last year's class.
   It is still unclear as to what side of the ball that Wade will play on; the coaching staff talked to him about being a slot back, WR, DB and special team returner.
Marsh Waits No Longer
   Bronson Marsh Commits to UNO, according to news sources. Unfortunately, my source was wrong about a pending Husker gray shirt offer for Marsh. I guess his visit to NU last week was merely to talk about the walk-on program. However other reports and my source said the Huskers asked Marsh to wait to see what develops over the next couple of weeks. Well, evidently Marsh didn't want to wait any longer.
   It should be absolutely clear to every future Nebraska high school prospect now that Bo Pelini has a plan and he is sticking to it! There will be no "sympathy" offers just because you are Nebraska high school football player: If you are not evaluated as being at least as good as the other prospects on their board you will not be offered.
   That's the reality.  And though I wish– and believe–that the Huskers would offer more in-state kids. I do understand Pelini's position: "It's a business and his business is to win championships."