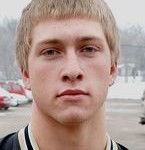 One More Week Until Signing Day
Lincoln Southeast defensive end David Sutton pushes the number to–9 class of 2011 Nebraska high school football players holding D-1A scholarships. Earlier this month the 6-3, 230-pound prospect received an offer from the Ohio Bobcats.  
Omaha Westside's Zach Adler (6-2, 223, DE) joins the list of division I offered players with his commitment to attend D-1AA North Dakota. a very good football player with a lot of headroom.  
Adler, a second team All-Metro player this past season, joins the long line of unhearalded prospects who–in the end–capture the prize.  
The February 2nd signing day is closing fast. Will there be more division 1 players to add to the list? And   who will be the players that decide to walk-on at Nebraska?   
It won't be long now before we know the answer to these questions.  
Athletes, coaches and parents can send 2011 offers and commitments for posting: Click here to myHitNews Email.
Thanks to all those who have participated.
Last Updated: January 29, 2011: 
Brock Swanson (Crete) &  Josh Swanson (Gering) to Northwest Missouri State.
Nebraska High School Football
Class of 2011 College Commitments 

Athlete, Pos (Ht, Wt) H.S.

Offers (known)

School Commitment

NCAA Division 1-A

Zach Sterup, OL (6-8, 260) Hastings St. Cecilia Catholic
Iowa University, Kansas, Kansas State, Ohio, Wisonsin, Louisville, Memphis, Minnesota, Nebraska, Notre Dame, UCLA, Stanford

Nebraska

Ryne Reeves, OL (6-3, 300) Crete


Nebraska, Stanford

Nebraska

Cole Fisher, LB (6-3, 190) Millard North

Iowa University, Kansas

Iowa

Ted Lampkin, ATH (5-7, 159) Omaha Central
Iowa State, Kansas State

Iowa State

Daniel Davie, DB (6-0, 185) Beatrice

Nebraska, Kansas, Ohio University, North Dakota State

Nebraska

Derrius Vick, QB (6-2, 180) Lincoln Southeast
Colorado State, Ohio, North Dakota State, South Dakota State  
 
Nate Skold, OL (6-8, 280) Omaha Westside

Wyoming, Tulane, North Dakota, North Dakota State, South Dakota

Tulane
Brandon Yost DL (6-1, 250) Millard West

Ohio, Wyoming, South Dakota State, South Dakota

 
David Sutton, DE, (6-3, 230) Lincoln Southeast

Ohio, South Dakota State

 

NCAA Division 1-AA

Jimmie Forsythe, QB (5-11, 180) Omaha Burke

South Dakota, South Dakota State

South Dakota State

Ben Muff, LB (6-1, 200) Crete

North Dakota State, South Dakota State

 
Tiras Bolton, ATH (5- 170) Omaha Westside

North Dakota

 
Derek Chancellor, OL (6-5, 290) McCook

South Dakota, South Dakota State, North Dakota, Nebraska walk-on

South Dakota

Quentin Urban,


ATH (5-11, 185) Millard South

South Dakota, Nebraska walk-on

South Dakota

Devin Bass, DB/ATH (5-10, 172) Millard North

South Dakota, Drake

 
Zach Adler, DE/LB (6-2, 223)
Omaha Westside

North Dakota

North Dakota

Brandon Clark, WR (6-2, 170) Millard South

Drake

 
Jordan Wisdom, DE, (6-2, 235) Millard South

Southeast Missouri State

 

NCAA Division II

Zach Leinbaugh, ATH (5-10, 180) Millard West

University Nebraska at Omaha

University Nebraska at Omaha

Trevor Thompson,
Alliance

Chadron

 
Josh Swanson, LB, (6-0, 200)
Gering

Chadron. Northwest Missouri State

Northwest Missouri State
Brock Sherman, LB (6-0, 223) Crete

Northwest Missouri State

Northwest Missouri State
Eddie Collins, ATH (5-7, 165) Millard South
 
 
Ryan Wheeler, LB (6-4, 244) Millard North
 
 
Ryan Randall, RB (6-0, 190) Blair
 
 
 
 
 
Will Sailors, OL (6-4, 250) Lincoln Northeast
 

Nebraska walk-on

Jacob Bergmeier, RB/DB (5-9,165) Millard North
 
 
Josh Couch, DB (6-1, 175) Millard North
 
 
Nate Kroupa, LB (5-11, 215) Omaha Burke
 
 
BroderickBoehm , LB (5-11, 205)
Lincoln Southeast

 

Nebraska walk-on
Tony Gardner, WR/DB (5-11, 175) Millard South
 
 
Mitch Peppmuller, OL
(6-5. 285) Lincoln Northeast

University Nebraska at Omaha

University Nebraska at Omaha

 
 
 

NAIA

 
 
 
 
 
 

JUCO