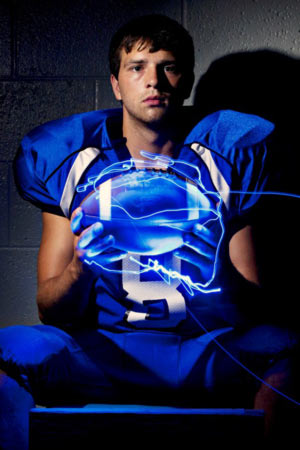 Elijah Flener's knack for dropping the long ball into just the right place during tight coverage, along with his nice touch on everything else he throws in between, may very well earn this impressive 6-0, 180 lbs. class of 2013 football prospect an opportunity to continue playing ball at the next level.
In 2011 Flener broke the Butler County High School single-season total yards passing record while leading the Bears to an 8-4 record—completing 112 passes for 1,680 yards and 16 TDs for the year
After just three games this season, Flener has already accounted 720 yards and 8 TDs through the air plus another 238 yards and 4 TDs rushing the ball, contributing to a  perfect 3-0 start for the Kentucky high school football Class 2A Bears.
Butler County also counts on the athletically gifted senior to play defense and special teams. Lining up to start at cornerback or safety, Flener lead his team in interceptions and pass breakups last season and he held being the team's long snapping duties
Butler County head football coach Ryan Emmick says,
"Elijah has excelled on the field of play both offensively and defensively.  Entering the 2012 season at quarterback, Elijah has thrown for over 3,000 yards and will own every record in the Butler County High School passing record book."

Coach Emmick also wrote glowingly about Flener's strong leadership skills on the football field as well as his QB's devotion to helping the citizenry within the Butler County area, through his involvement in various community projects.
In addition to his obvious talents on the football field, Flener is one of the state's top basketball players. The Bears guard earned first team all-region honors in 2012.
Over the past 5 years of providing high school sports coverage and video editing, Elijah Flener ranks as one of the better quarterbacks I have had the pleasure to review. I'll be very interested to see where Flener lands at the end of the class of 2013 football recruiting cycle in February. He is going to continue playing football somewhere, for sure!
Below, check out Elijah Flener's 2011 football season highlight video: