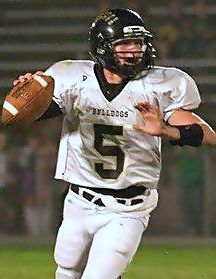 By Will Cummings
myHItNews.com
A lot of Crouch in Jimmie Forsythe
Cast your vote below for the best Quarterback to ever play for the Nebraska Cornhuskers.
It's time–Nebraska high school football time. I can't wait to see how this season pans out and what new studs will emerge onto the scene. It always happens every year no matter how much we try to evaluate talent there is always someone lurking around out there that we missed or that we thought was few bushels shy of having enough of the goods to play D-1 football. So who will that person be this be this year?
One of my favorite candidates leading the MHN Class of 2011 Prospects to Watch List is Omaha Burke QB Jimmie Forsythe. In fact Forsythe is the reason why I posted the MHN poll: " Who is the best Quarterback to ever play for the Nebraska Cornhuskers?"  That's because the other day I was watching one of Jimmie's films and it hit me–he reminds me of former Millard North great, and Heisman Trophy winner, Eric Crouch.   Fast, quick feet and tough! The boy is good. Very good!  OK.  That's as far as I am going to go with the comparison between Crouch and Forsythe except to say that if Jimmie Forsythe stays healthy and keeps his focus–he is going to be a force at the next level.
My closing thought today is "How much longer will it be before Omaha Northwest head football coach Damon Benning wins his first game. Better yet, will he ever win a game. Huh?
Who was the best Quarterback to ever play for Nebraska?
Eric Crouch—A Heisman and a National Championship game appearance
Tommie Frazier—Two National Championships.
I will share my opinion on the mater next week, but first I would like to hear from all of you.
I'll see some of you at the game on Friday.
[poll id="25″]
Related Links:
Jimmie Forsythe Shows Promise As a Sophmore
Damon Benning: Next Metro Head Coach?
Damon Benning: Lot of Hope on His Shoulders