State's 2010 Recruiting Class Is Off  To A Very Slow Start 
Poll: Pick your top 3 D-1 prospects
 
By Will Cummings
myHitNews.com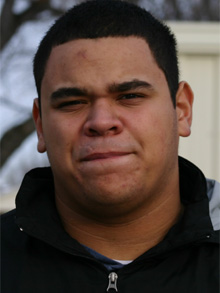 High School football recruiting in Nebraska: is it time to panic? Well, maybe, if you stop to think about this: The Nebraska high school class of 2009 was considered by many to be one of the state's weakest recruiting classes in memory. However, last year by this time in the recruiting cycle that "weak" class of 2009 had 6 players (Tyrone Sellers, Jon Lechner, Cole Pensick, C.J. Zimmerer, Vondrae Tostenson and Eric Koehlmoos) who received a combine total of 11 D-1 offers. Now compare those figures to the class of 2010—1 player—Aurora's Andrew Rodriguez, a Rivals 4 star OT–with 1 D-1 Offer.  
   The 2009 class had three players (James Davis, Scott Criss and Daryle Hawkins) who received D-1 offers after April and two players (Vondrae Tostenson and Eric Koehlmoos) who lost their D-1 offers. So if last year's numbers serve as any indication for total D-1 offers in the class of 2010—things do not look good! 
Recruiting Cycle Continues To Accelerate 
   Every year the recruiting cycle accelerates, it is now to the point that many D-1 schools have their top prospect list made out by the beginning of the junior year high school football season. By the end of the junior year high school football season, most D-1 schools have their entire prospect board ranked and have already offered the top players on their boards. Players that receive D-1 offers after April of their junior year are generally players that are already on a college's "radar" (ranked prospect board) but the college needs to evaluate the player more in camp and/or through his senior year and/or to see whether or not a prospect they have ranked higher and have already offered will commit to their school. 
   Any 2010 player that does not have a D-1 offer by this time in the recruiting cycle is going o have to make a hell of a statement in summer camps and through their senior year. 
   If you are a Class of 2010 prospect and you go to a college camp this summer and do not get an offer—guess what? You didn't do enough to impress. You will get another chance at your next camp. Still no luck? Then you better have a whale of a senior season! 
    Players in the Nebraska high school class of 2010 will have to do all of the above if they are to even have a chance to better the slim D-1 numbers from the class of 2009. 
Developing Trend 
   Is there a trend developing here? You bet there is!. The college game with its ever growing number of quick attack spread offenses has evolved to rely almost purely on quickness and speed at every position. It's no longer good enough to be big and strong—you have to be quick and/or fast too. Just look at the teams that have won the BCS championship since its inception in 1998. Only 2 non-Southern schools, Ohio State University and USC, have been crowned champions*. 
BCS Champions
1998 Tennessee  
1999 Florida State  
2000 Oklahoma  
2001 Miami  
2002 Ohio State  
2003 LSU  
2004 USC  
2005 Texas  
2006 Florida  
2007 LSU  
2008 Florida 
More and more college coaches are seeking talent almost exclusively within the southern parts of the United States and California. Even big lineman, traditionally found in the Midwest, are becoming a sought after commodity in the South.
 Colleges Seek Speed 
   College coaches are looking for quickness and speed on both sides of the ball—and they go South and to California to find it because that's where it is. The schools that are winning BSC championships are almost exclusively southern schools—located in the middle of "speed alley."That means that pospects in the Midwest and North better possess elite speed and quickness if they desire D-1 scholarships, because that's what D-1 colleges are demanding. Even your lower tier D-1 schools are not an exception to this reality. 
   So Nebraskans get quicker and faster or continue to see the numbers of D-1 offers from this state stagnate at around the current pace. 
 *Oklahoma is considered by many to be a part of the Southern United States. 
Related Links:
Recruiting By The Numbers 
Take Poll
 
[poll id="6″] 
[poll id="7″]