Blair's Jake Schany rolls for 200 plus – twice in a row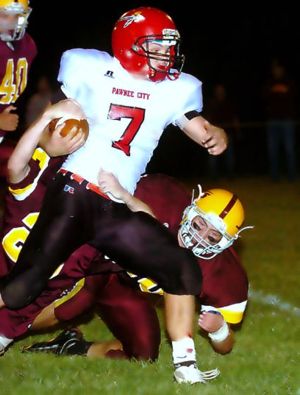 Garrett Borcher (pictured at left), QB/LB (5-11, 205), Pawnee City, Sr. —  On Friday, the Class D eight-man football prospect accounted for 10 TDs in the Indians 88-40 victory over Sterling. Scoring 8 on the ground and 2 through the air, Borcher torched the tundra for 356 rushing yards – add in his 54 yards passing and he finished with a total of 410 yards for the night. The 8 scores on runs that he collected this weekend gives him a season total of 18 rushing TDs and Borcher has passed for 8 more. In addition to his offensive prowess, this stud came into the game leading Class D2 with 76 tackles from his LB position. "That sure is a lot of good ballin'!"

Zach Cook, QB (6-2, 195), Omaha Burke, Jr. — In a win over No.4 Papillion Cook completed 80% of his passes (20-25) for 387 yards. The feat broke Burke's  single-game passing yards record and his 6 TD tosses tied Nebraska's Class A single-game record.
Alec Ditoro
, QB (5-10, 160), Papillion-La Vista, So — The young gun threw 4 TD passes against No.1 Burke and completed 25-29 passes (86.2%) for a school record 390 yards. In 5 games the prolific young sophomore has thrown for 1224 yards, averaging 244 per game, while completing 76 of 103 attempts (73.8%) with –

0 interceptions

–  and 12 TDs.

Jake Schany

,
LB (6-2, 210), Blair, Sr. — MHN's new No.1 class of 2012 football prospect has rumbled for over 200 yards in his last two games: a week ago against Plattsmouth, he carried the ball 20 times for 217 yards and 2 scores; this past Friday,  in Blair's win over Elkhorn South, Schany lugged the rock on 30 tries for 212 yards and two more TDs. Is the bona fide D-1A LB
looking to be recruited as a RB, too? Reportedly, Schany was used sparingly on offense in the team's first two outings this season due to illnesses that contributed to him losing a considerable amount of weight. Now, I guess he is just making up for the lost opportunities.
Bryce Sheard
, WR (6-2, 170), Papillion, Jr.  — He scored 3 TDs and snatched 5 balls good for 167 yards.

Zachery Oliver

,
WR (6-4, 205), Sr. —  The big sure-handed Bulldog receiver grabbed 9 balls for 131 yards and scored 2 TDs. Oliver is another late-blooming Burke prospect to watch.



Jackie Davis

, RB (5-8, 175), Omaha Central, Jr.  — A rising star, Davis had 16 carries for 118 yards and had 3 scores in the Eagles win over Millard South. He has 10 TDs on the season.



Quentin Williams

, RB/CB (5-8, 165), Omaha Central Jr. — Davis' stable mate, a fleet-footed shifty back, scored 2 TDs and carried 11 times for 111 yards. He's small but he shows very good vision and toughness.



Bennie Olson

, RB (5-8, 155), Millard South, Jr. — In the Patriots loss to Central, he carried 20 times for 206 yards and scored 2 TDs – his longest went for 93 yards.



Graham Nabity

, LB/RB (6-1, 200), Elkhorn, Sr. — The big versatile prospect carried the ball 31 times 161 yards and scored 2 TDs to help lift the Antlers over Omaha Gross.
Nebraska High School Football Statistic Leaders, Sept 22