Francis Applauds Ty Kildow, Yusef Wade and Recalls Fondest Memory of His NFL Career
By Will Cummings
MyHitNews.com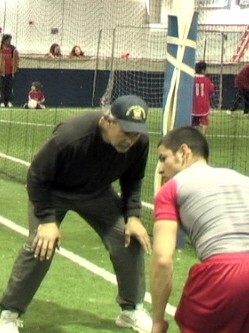 While most of the sporting world was sitting down and watching the Final Four Championship Game, I had the immense pleasure of watching and listening to fourteen year NFL veteran and Super Bowl champion tight end Russ Francis demonstrate and articulate to Redzone participants how to get off the line, run patterns and catch the ball. More importantly, I got to listen to him tell the kids how to focus outside of football in order to have a chance to get to where he has been.
   Russ, with his plain-spoken, matter-of-fact,  to-the-point manner, broke down the relationship of studying in school and being a better football player in a way that was so simple yet so deep at the same time. Paraphrasing, this is what Russ said:
You know the difference in playing at the next level versus high school is that they give you a lot bigger play book to study. The one thing that most all guys like myself [who made NFL teams] had in common was that we completed our assignments in school. We may not have all been the brightest students, but we completed our assignments. That made it easier for us when we got to the next level. If you don't study and complete your assignments in school, what are your chances of learning a thick playbook and completing your assignments on the football field?
That's what learning to study in school can do to help you out on the football field. Studying complicated concepts in school will help to prepare your mind to learn difficult things like a playbook at the next level.
 Francis Praises Kildow and Wade
   After the session was over, Francis told Redzone founder Yano Jones and I how impressed he was with Nebraska Walk-on Ty Kildow's explosiveness out of his cuts on pass patterns saying, "Some of the best I've seen." And Francis has seen a lot during  the span of his fourteen year NFL career and since– he still works with college and NFL players.  Russ also spoke with Lincoln North Star's Yusef Wade and told him he was impressed with how smooth and fluid he was and how good his hands were. But big Russ immediately brought Wade back down to earth when he said, "Your good, but not as good as you think you are. You dropped six balls out there tonight. Never drop a ball! Pride yourself in never dropping a ball. I always took pride in never dropping a ball.  No matter where I was at—even if someone standing right next to me just tossed me the ball. If you can develop that kind of pride you can go a long way."
Russ "All-World" Francis and Howard Cosell
   Later on, Francis shared some other interesting tidbits with Yano and I about his NFL days.  I brought up the name Howard Cosell, the legendary sports journalist.  Russ Francis was one of Cosell's favorite football players, often referring to Russ on national TV as "All-World."  Russ, who left no doubt about his sincere respect and admiration for Cosell, told us that he took a lot of ribbing from his teammates and other players for Cosell's "All-World" references. So one day Russ picked up the phone to call Cosell  to tell him to lay off the All-Word thing because he was getting so much heat from the players; Cosell promptly answerd ,"You gotta be tough to play in this league, kid. And click, he hung up the phone," Russ said with a laugh. "That was Howard."
Russ Francis' Fondest NFL Moment
   I was curious to know–as I am with most people of Russ Francis' stature– what is one of the moments they remember most about their careers.  
   So I asked Russ, "What is your fondest moment of your NFL career?
   Without hesitation Russ replied, When I was with New England and practicing parallel routs with Darryl Stingley. He made me understand how important it was to run routs precisely. He would get on me if I was just one yard—even one foot off. It was important because the safety had to take one of us and it freed one of us to get the ball. We practiced relentlessly every day on getting our timing down just right."
   Darryl Stingley–for those who may not remember–was the outstanding NFL football player who was paralyzed from the neck down as a result of a viscous hit by Oakland Raiders Jack Tatum during an NFL preseason game on August 12, 1978—Stingley died exactly two years ago from this past Sunday on April 5th, 2007.
   Practicing routes with his former roommate Darryl Stingley is the fondest NFL memory of Russ Francis–a First Round Draft Pick; a man who played in the NFL for fourteen years; caught 40 touchdowns; made the Pro Bowl; hauled in passes from Pro Football Hall of Famer Joe Montana and played on a Super Bowl Championship team.
   It helps explain why–on this night–Russ Francis was more concerned about helping kids develop their game at Redzone than watching the college basketball championship.
   Now I know why I liked this guy so much when I was growing up watching television and seeing the 6-foot-6, 245 lb TE rumble down the field on his way to another TD and hearing Howard Cosell calling him "All-World."