Say What ? Brandon Yost Turns Down Opportunity to Play D-1 Ball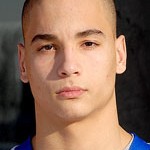 The good news for Nebraska's high school football class of 2011 is that for the first time in several years the number of D-1A—offered–players hit double digits.  I stress the word "offered" because only 9 of the 10 players actually signed letter of intent to play at the division 1A level.  The lone holdout is Millard West's Brandon Yost who reportedly had offers form Ohio and Wyoming. But according to Northwest Missouri State's website (click to read PDF article), Yost  and his family "fell in love with the place" so he turned down those offers to stay closer to home and play for the Bearcats.  Hmm, that's not something you hear about too often.
How about Devin Bass? On Tuesday, the Millard North standout DB got a last minute offer from Ohio University's Frank Solich . The Omaha World-Herald reported that Bass's coach Fred Petito was on the phone all weekend with Solich  and his staff trying to convince them to give his kid a shot (click to read Bass/Petito article). 
Kudos to Fred Petito!  He is one the best in the business at doing all he can to secure college opportunities for his players.  He goes the extra mile and then some. And we can all thank Frank Solich also for not forgetting his roots and giving so many Nebraska kids an opportunity to play D-1A ball. The Ohio Bobcats take 2 Nebraskan's this  year but they were after several more as well.
OK. That was the good news for this class.
The bad news is that—so far—there are only 7 Nebraskan's holding  D-1AA offers. In recent years that number  comfortably made it over the double-digit mark.  However  the counting  is not over yet.
Nebraska H.S. Football Class of 2011

Breaking Down the Numbers


D-1A Signees

9

D-1AA Signees

7

D-II Signees

50

NAIA Signees

?

JUCO Signees

?

Total

66 and counting

Plus 10 "officially reported" Nebraska walk-on

players

(there could be a few more).
Nebraska High School Football
Class of 2011 College Commitments

Athlete, Pos (Ht, Wt) H.S.

Offers (known)

School Commitment

NCAA Division 1-A

Zach Sterup, OL (6-8, 260) Hastings St. Cecilia Catholic
Iowa University, Kansas, Kansas State, Ohio, Wisonsin, Louisville, Memphis, Minnesota, Nebraska, Notre Dame, UCLA, Stanford

Nebraska

Ryne Reeves, OL (6-3, 300) Crete


Nebraska, Stanford

Nebraska

Cole Fisher, LB (6-3, 190) Millard North

Iowa University, Kansas

Iowa

Ted Lampkin, ATH (5-7, 159) Omaha Central
Iowa State, Kansas State

Iowa State

Daniel Davie, DB (6-0, 185) Beatrice

Nebraska, Kansas, Ohio University, North Dakota State

Nebraska

Derrius Vick, QB (6-2, 180) Lincoln Southeast

Colorado State, Ohio, North Dakota State, South Dakota State

Ohio

Nate Skold, OL (6-8, 280) Omaha Westside

Wyoming, Tulane, North Dakota, North Dakota State, South Dakota

Tulane
David Sutton, DE, (6-3, 230) Lincoln Southeast

Ohio, South Dakota State, Nebraska gray shirt

Nebraska gray shirt
Devin Bass, DB/ATH (5-10, 172) Millard North

Ohio, South Dakota, Drake, Souteast Missouri State

Ohio

NEBRASKA Walk-on

Tyson Broekemeier, QB (6-1, 180) Aurora

Nebraska Walk-on

Nebraska Walk-on

Sam Burtch,WR (6-3, 175) Elmwood

Nebraska Walk-on

Nebraska Walk-on

Jack Gangwish, LB (6-2, 215) Wood River

Nebraska Walk-on

Nebraska Walk-on

Aaron Hayes, OL (6-3, 265) Elkhorn

Nebraska Walk-on

Nebraska Walk-on

Adam Kucera,OL (6-6, 285) Litchfield

Nebraska Walk-on

Nebraska Walk-on

Anthony Ridder, LB (6-2, 195) West Point

Nebraska Walk-on

Nebraska Walk-on

Eddie Ridder,TE/DE (6-6, 225) Elkhorn

Nebraska Walk-on

Nebraska Walk-on

Richard Wynne Jr, RB (5-10, 175) Creighton Prep

Nebraska Walk-on

Nebraska

Walk-on
Broderick Boehm , LB (5-11, 205)
Lincoln Southeast

Nebraska Walk-on

Nebraska Walk-on

Will Sailors, OL (6-4, 250) Lincoln Northeast

Nebraska Walk-on

Nebraska Walk-on

NCAA Division 1-AA

Jimmie Forsythe, QB/DB (5-11, 180) Omaha Burke

South Dakota, South Dakota State

South Dakota State

Ben Muff, LB (6-1, 200) Crete

North Dakota State, South Dakota State

South Dakota State

Tiras Bolton, ATH (5- 170) Omaha Westside

North Dakota , University Nebraska at Omaha

University Nebraska at Omaha

Derek Chancellor, OL (6-5, 290) McCook

South Dakota, South Dakota State, North Dakota, Nebraska walk-on

South Dakota

Quentin Urban,


ATH (5-11, 185) Millard South

South Dakota, Nebraska walk-on

South Dakota

Zach Adler, DE/LB (6-2, 223)
Omaha Westside

North Dakota

North Dakota

Brandon Clark, WR (6-2, 170) Millard South

Drake

Drake

Jordan Wisdom, DE, (6-2, 235) Millard South

Southeast Missouri State

 

NCAA Division II

Zach Leinbaugh, ATH (5-10, 180) Millard West

University Nebraska at Omaha

University Nebraska at Omaha

Trevor Thompson,
Alliance

Chadron

 
Josh Swanson, LB, (6-0, 200)
Gering

Chadron. Northwest Missouri State

Northwest Missouri State
Brock Sherman, LB (6-0, 223) Crete

Northwest Missouri State

Northwest Missouri State
Eddie Collins, ATH (5-7, 165) Millard South
 
 
Ryan Wheeler, LB (6-4, 244) Millard North

Northwest Missouri State

Northwest Missouri State

Ryan Randall, RB (6-0, 190) Blair
 
 
Elijah Tostenson, WR (6-2, 185) Millard South

University Nebraska at Omaha

University Nebraska at Omaha

Jacob Bergmeier, RB/DB (5-9,165) Millard North

Dakota Wesleyan

Dakota Wesleyan
Josh Couch, DB (6-1, 175) Millard North
Drake University, Minnesota State University – Mankato, Southwest Minnesota State, Augustana,
Chadron State, Wayne State, Morningside College


Minnesota State University – Mankato

Nate Kroupa, LB (5-11, 215) Omaha Burke

Wayne State

Wayne State

Tony Gardner, WR/DB (5-11, 175) Millard South
 
 
Mitch Peppmuller, OL (6-5. 285) Lincoln Northeast

University Nebraska at Omaha

University Nebraska at Omaha
Trevor LaPoint,WR (6-3, 220) Bellevue Bellevue West

University Nebraska at Omaha

University Nebraska at Omaha

Joel Fickel,PK (6-3, 190) Millard South


University Nebraska at Omaha

University Nebraska at Omaha

Devin Flemming, DB (6-0, 185) Omaha Burke Augustana

Augustana

Augustana

Jared Sapp, Ath (6-1, 192) Lincoln High

Minnesota State University – Mankato

Minnesota State University – Mankato

Chris Conroy, QB (6-1, 220) Gordon-Rushville

Chadron

Chadron

Lane Haller, DB (6-2, 190) Gordon-Rushville

Chadron

Chadron

Kyle McCarthy, LB (6-1, 225) Aurora

Chadron

Chadron

Tyler Pflughaupt, DB (6-1, 175) Alliance

Chadron

Chadron

Theo Williams, RB (5-11, 165) Sargent

Chadron

Chadron

Connor Weingart, OL, (6-2, 245) Alliance

Chadron

Chadron

Austin Smith, WR (6-0, 190) Aurora
Nebraska-Kearney

Nebraska-Kearney

Zach Albrecht, WR (6-3 200) Kearney
Nebraska-Kearney


Nebraska-Kearney



Spencer Jobman, WR, (6-1, 175) Bayard
Nebraska-Kearney

Nebraska-Kearney

Dillon Loschen, LB (5-11, 185) Columbus
Nebraska-Kearney

Nebraska-Kearney

Ross Martin, DB (5-10, 200) Holdrege
Nebraska-Kearney

Nebraska-Kearney

Tanner Mroczek, RB (6-0, 175) Gothenburg
Nebraska-Kearney

Nebraska-Kearney


Josh Papa, QB/ DB (6-1, 175) Schuyler

Nebraska-Kearney

Nebraska-Kearney

Brannon Pierce, DL (6-1, 290)Scottsbluff

Nebraska-Kearney

Nebraska-Kearney

Jake Spies,
OL 6-6, 300) Mullen
Nebraska-Kearney

Nebraska-Kearney

Chris Tyler, QB (6-3, 180) Omaha North
Nebraska-Kearney

Nebraska-Kearney

Brandon Yost DL (6-2, 280) Millard West

Ohio, Wyoming, South Dakota State, South Dakota, Northwest Missouri State

Northwest Missouri State

Brady Bolles, QB (6-3, 180) Lincoln North Star

Northwest Missouri State

Northwest Missouri State

Zach Maloley, LB (6-1, 215) Kearney

Northwest Missouri State

Northwest Missouri State

Creighton Morris, TE (6-4, 215) Lincoln North Star

Northwest Missouri State

Northwest Missouri State

Nehemiah Wilkins, WR (6-0, 185) Boys Town

Northwest Missouri State

Northwest Missouri State

Garrett Anthens, LB (6-0, 235) Plattsmouth

Wayne State

Wayne State
Brenden Buskirk, TE (6-3, 215) Papillion-LV South

Wayne State

Wayne State
Brian Choate, TE (6-5, 225)
Cedar Rapid

Wayne State

Wayne State
Nathan Scott, QB (6-3, 190)
Broken Bow

Wayne State

Wayne State
Dylan Tolbert, OL (6-5, 235)
Omaha Gross

Wayne State

Wayne State
Eli Vosler, DL (6-3, 260)
North Bend Central

Wayne State

Wayne State

Aaron Frey, DL (6-5, 220)
Lincoln Pius X

Colorado School of Mines

Colorado School of Mines

Tevin Geter, RB (5-9, 170) Creighton Prep

Colorado School of Mines

Colorado School of Mines

Devin Reaves, RB (5-9, 215) Millard West

Colorado School of Mines

Colorado School of Mines

Zach Whitham, QB (6-3, 210) Millard West

Colorado School of Mines

Colorado School of Mines

Cole Spurgeon, TE (6-3, 207) Gretna

Colorado School of Mines

Colorado School of Mines

Taylor Hopkins, DB (5-11, 185) Omaha Burke

Fort Hayes

Fort Hayes

Hayden Gowan, OL (6-2, 230) Papillion-La Vista

Northern State

Northern State

J.J. Bockman, WR, (6-0, 170)
Bellevue West

Southwest Minnesota State

Southwest Minnesota State

Caleb Heim,
QB (6-2, 190) Bellevue West

Southwest Minnesota State

Southwest Minnesota State

Alex Thompson,
OL, (6-0, 255) Omaha Westside

Southwest Minnesota State

Southwest Minnesota State

NAIA

 
 
 
 
 
 

JUCO