Decision to Walk-on Is Right Fit for Lincoln North Star Prospect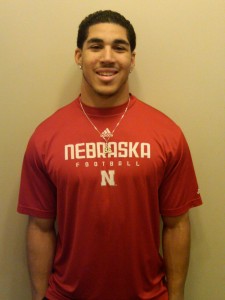 Class of 2010  prospect Yusef Wade was among five other former Nebraska high school football players to receive awards at Nebraska's Annual Team Banquet, held this past Saturday night at the Corhusker Marriott in Lincoln. Wade was a co-recipient, along with WR Kenny Bell (Colorado), of the Scout Team Offensive MVP Award. The other five former Nebraska high school players awarded were: Alex Henery, Niles Paul, Joe Broekemeir, Thomas Grove, and Collin Mcdermott. 
It's interesting to note that just last year around this time Wade was facing the same walk-on decision that a handful of Nebraska high school prospects in the Class of 2011 will soon face: Should I walk-on at Nebraska? 
The Lincoln North Star RB/DB held a D-1AA from North Dakota and had conditional offers from other D-1AAs if he took visits to those schools.  Preferred walk-on opportunities from Nebraska, Oklahoma and Iowa State were also on the table. There was no need for Wade to visit any more D-1AAs, because–from the beginning–he had his heart set on playing D-1A ball. So he went to Nebraska not to just be a part of the surroundings but to compete and to prove that he belonged in the big times. And his never quit attitude and his strong work ethic are already starting to bear fruit. 
I must say that it was no surprise to me when I first read that Wade had received this award, because film doesn't lie and I've seen enough of his game film to know that he had talent to play effectively at the D-1A level. Evermore so, I soon realized, after becoming aware of him two years ago, that he had the most important weapon in his athletic arsenal—heart! A player doesn't get these kinds of awards if he is not making a serious impression on his coaches and teammates. As a result, the redshirt freshman walk-on from Lincoln may soon work himself into some playing time. Thus making his decision to turn down those lower-level offers even sweeter.
2010 Nebraska Football Team Awards
Special Teams MVP:

Alex Henery

, Senior, PK,
Omaha Burke H.S., Omaha, NE
Offensive MVP:

Roy Helu Jr

., RB, Senior, San Ramon Valley H.S., Danvill, CA
Defensive MVP:

Lavonte David

, LB, Junior, Fort Scott CC, Hometown, Miami FL
Guy Chamberlin Trophy:
Alex Henery
Tom Novak Trophy:

Rickey Thenarse

, Senior, DB, Jordan H.S. Los Angeles, CA
Fischer Native Son Award:
Niles Paul, Senior, WR, Omaha North, Omaha, NE
Walk-on MVP:
Joe Broekemeier  WR, Senior Aurora H.S., NE
Lifter of the Year:

Rex Burkhead

, RB, Sophomore, Plano H.S. Plano, Texas
Character Award:


Rex Burkhead

,


Eric Hagg

, DB, Senior, Ironwood H.S., Peoria, AZ


Thomas Grove

, Senior, LB, Arlington H.S. Arlington, NE
Pat Clare Award:

Ricky Henry

, Senior, OG,
Omaha Burke H.S., Omaha, NE  
Bobby Reynolds Award:

Adi Kunalic

PK, Senior, North Crowley H.S., Fort Worth, Texas
Scout Team Offensive MVP:


Kenny Bell

, WR, Redshirt Freshman R, Fairview H.S. Boulder, Colorado;


Yusef Wade

, Redshirt Freshman, RB/DB,
Lincoln North Star H.S., Lincoln, NE
Scout Team Defensive MVP:

Colin McDermott

,

Sophomore, DE, Creighton Prep, H.S

.,
Omaha, NE
Burnell Student Manager Scholarships:

Tanner Dunbar

and

Paul Belz
Yusef Wade Best Of H.S. Highlight Video
httpvh://www.youtube.com/watch?v=08foZXfxB28