Class of 2011 Full of Talent At the Top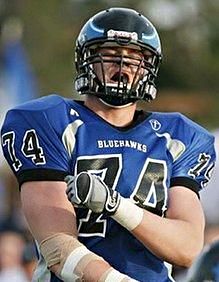 By Will Cummings
myHitNews.com
   The State of Nebraska, with a meager population base of only 1.8 million and geographically situated in the far from glamorous Midwest farm belt–where the winters can be brutally unforgiving and the summers torridly hot–continues to produce some of the nation's best high school athletes.  To illustrate the point, just look at the top dogs in the Nebraska high school football class of 2011:
Zach Sterup–The Hasting St Cecilia Catholic giant has already picked up double-digit numbers of D-1 offers and 4 Stars from Rivals. "The Big Freak" is also a very talented basketball player who could be on his way to becoming one of the most sought after athletes in the history of Nebraska high school sports.
Ryne Reeves—The Nebraska commit also recently picked up 4 stars from Rivals and is rated as high as the #2 center prospect in the country. Who knows how many offers the Crete High senior-to-be may have picked up if had not immediately pounced on the Nebraska offer.
Ted Lampkin—The dynamo from Central holds offers from Kansas and Kansas State. If you are talking about athleticism and explosiveness (24 and 48 feet plus long and triple jumper) and speed (4.37 forty), Lampkin is your man– a potential college game-breaker deluxe.
Daniel Davie—The "Beatrice Bullet" rocketed his way to state meet All-Class gold medals in the 100 and 200 meter sprints. A healthy-sized  six-footer, Davie has a huge upside to go along with his 38" vertical and 4.40 forty. He currently holds an offer from Ohio but is sure to have more come his way.
Davie received D-1 offers from Kansas and Nebraska, shortly after this article was posted.
Cole Fisher—The Millard North LB claimed two early offers from Iowa and Kansas. Tall and long with plenty of frame to fill, It's obvious that there are some good genes in the Fisher family. Cole's brother is already a stalwart for the Huskers. Daddy Fisher could also play some ball in his day.
Derrius Vick—The multi-talented and shifty dual-threat QB from Lincoln Southeast picked up a football offer from Colorado State to go along with his basketball offer from the Rams. Strong camps and/or a good senior season should produce some more takers.  A lot of talent and presence in Vick.
   The talent in Nebraska is often ignored by D-1 recruiters seeking the far more fertile grounds of Texas, Florida, California and the likes. But make no mistake about it–Nebraska high schools produce a lot of good football players.  A major reason why the Huskers have won five national titles and 2009 Division II National Champions Northwest Missouri State has been so successful is because both programs field a lot of Nebraska high school football players.  We should also add Iowa University to the list of successful football programs that have benefited from Nebraska talent, over the years.
A lot of good coaching–from the midgets through high school–and that secret recipe in the water continue to produce some of the best high school football players in the nation.
NOTES:  If it becomes reality, the looming announcement that Nebraska University may leave the Big 12 for the Big Ten– as predicted by media-heads–the change will bring a whole new dimension to high school recruiting in Nebraska. Better yet It could also introduce a new monster rivalry: Nebraska Huskers vs. Iowa Hawkeyes.  And can you just imagine a Nebraska Huskers vs. Ohio State Buckeye game. Oh my!
Change is good.
Related Links:
Class of 2011 Football Prospects
Remembering the Giants That Played Nebraska High School Football